13 Fundraising Ideas For Hockey Teams That Are Easy and Fun!
With so many ways to fundraise and raise money, it can be difficult for a hockey team to come up with unique ideas that aren't overused. But even though most hockey players have probably heard all the ideas from friends and family before, that doesn't mean you can't come up with something new and exciting. 
There are tons of different options available to you to boost your fundraising efforts within the hockey community. Whether you want to hold a raffle, go caroling, or organize a food drive, you can leverage your social network and local connections to create an excellent fundraising event. We have you covered if you're struggling to brainstorm some new ideas for your team fundraiser! 
In this blog post, we share 13 awesome fundraising ideas for hockey teams that are easy and fun.
Play games for cash
If your team comprises junior high, high school, college, or adult players, why not challenge local businesses to a friendly game of Air Hockey or Ping-Pong? Not only will your group get some much-needed cash, but your team will have a lot of fun. 
Besides, who doesn't like to play games for money? It's a win-win situation for everyone. You could also challenge local sports teams to a game. 
For example, challenge the local high school hockey team to a game of Air Hockey. You could even challenge a rival hockey team to a game for a cash prize. Whoever wins gets the money.
Paint N' Run
If you have a painter on your team, why not organize a Paint N' Run? The concept is that painters donate their time to paint the walls of houses that need some sprucing up.
In return, the homeowners agree to donate a set amount of money to the team. You can organize the Paint N' Run with your team's help. Who knows, you may be able to hit a few houses on the way to the rink and get two fundraisers for the price of one!
Hold a Bonanza Sale
If you want to organize a Bonanza Sale, you will need to enlist the help of members of your team and local businesses. Once you've secured enough volunteers, your team will need to scour the neighborhood for items to sell.
At the same time, your team members will need to contact local shops and businesses in search of donations.
This can be a great way to earn some cash for your team. Once you have all the goods, you can set up a table outside a local store. You can also set up a table at a local hockey rink or arena.
Hold a Silent Auction
You could organize a silent auction at a local restaurant if you have a talented artist on your team. You can organize the auction by getting a few artists to donate their art. You can then post the art on an auction website and send invitations to interested parties.
The auction usually takes place during a meal, and customers can bid on the art on their menu.
Sell Coffee and Donuts Before Games
If you have a few volunteers on your team, you could organize a Coffee and Donuts fundraiser before an upcoming game. At the same time, you can invite local businesses to donate prizes for a draw to be held at the end of the game. This is a really easy fundraiser to organize. 
All you need to do is to set up a table outside the rink before your game and start selling coffee, donuts, and other yummy treats.
Charge Admission to Games
If you have a large group of fans, family, and friends on your team, why not charge admission to your next game? This is a great way to raise money for your team. Your fans will enjoy the added bonus of seeing their favorite team play live.
And it's a great way to beef up your revenue, especially if you charge a small amount or pay-what-you-can. Some people may be reluctant to donate but willing to pay an admission fee to see the game.
Ask for Sponsorship Dollars
If you have a large company that backs your team, you could ask them to sponsor your next game. At the same time, you could organize a fundraiser to collect money for the prize pool. This is also a great way to create team spirit among your fans and get them involved in the game.
This is often called a "Throw Your Weight Around" and holds a "Putt for Bucks" event at your rink. These fundraising events are a great way for fans to show their team spirit and support for the team. At the same time, these events are a great opportunity for businesses to build their brand.
Have A Snack Attack Fundraiser
If you have younger players on your team, there's no better way to get them excited about fundraising than to have a snack attack fundraiser. You can have the younger hockey players bake and sell homemade baked goods to help raise money for the team.
You can have them make and sell whatever they want, but chocolate chip cookies and peanut butter and jelly sandwiches are great options for younger hockey players who are just starting out!
If you want to make things even easier, you can buy pre-made baked goods from a grocery store and then sell them. If you choose this option, ensure you get some good pictures of the hockey players or coaches with the baked goods so that people know how the money was raised.
Go Coaching For A Day
One idea that has been around for a while is the "coaching for a day" fundraiser. With this fundraiser, you have a select number of friends, or family members volunteer to be coaches for your team for a day.
They will then receive a gift certificate or another prize for donating their time to coaching. You can also have a few other people on your team donate money to provide gift certificates to the coaching volunteers. You can have the coaching event on a game day or schedule it on a different day entirely.
This is one of the best hockey fundraiser ideas if you want to focus on reducing the time and effort needed for your team to get it off the ground.
Have A Donut Sale
Like the snack attack fundraiser, a donut sale is a great way to get the younger hockey players excited about fundraising. You can have the younger players make and sell donuts at a local donut shop or grocery store.
You can also purchase donuts from a store if the players on your team are too young to sell them or you want to avoid any safety issues with kids in public.
The key here is to get pictures of the hockey players or coaches with the donuts so that people know how the money was raised.
Run A Dinner Or Dessert Fundraiser
If you want to hold a dinner or dessert fundraiser that is more adult-focused, you can have a few friends or family members donate money to have a meal with the hockey team. You can then have the hockey team cook and serve the meal as a way to thank them for the funding.
If you are fundraising as a group of younger players, you can offer to cook a meal for a group of people for a donation. You can either have the hockey players cook the meal or hire a chef to come in and cook for you.
Play Games And Have Games
Another of the best fundraising ideas for hockey teams is holding a game night or game-themed event. You can have a few people donate money towards an event where the hockey team plays a few fun games (e.g., Cards Against Humanity, etc.).
You can also have a few other people donate towards a gift card or gift certificate towards a particular store (e.g., Steam, Amazon, etc.).
Organize A Live Auction
An auction fundraiser is a great option to create something memorable. You can have a few hockey players auction off unique prizes or gift cards to help boost the fundraising efforts. You can auction off items from local businesses or items that your hockey team has acquired or made.
Bonus: Use Donorbox for Online Fundraising
Having an online fundraising solution will always be handy when you go fundraising. This way, you can maximize your chances of getting that initial cash flow running with a seamless solution.
At Nonprofit Point, we have compared different fundraising solutions like Qgiv, GiveWP, Donorbox, Classy, etc.
But concluded that Donorbox is well suited for each nonprofit, organization, club, and community. Just because of the easy-to-use donation features.
Top Pick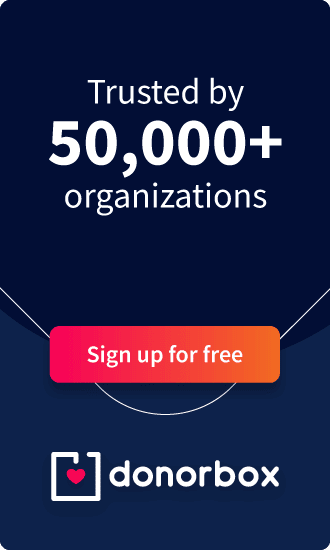 Donorbox
Start fundraising in 15 minutes (absolutely free)

Easy to the setup donation page
Lowest fees of just 1.5% on donations
Can start fundraising in just 15 minutes
No technical experience is needed
Hassle-free donation experience
Conclusion
There are many ways to fundraise for your hockey team — you just have to be creative! If you've run out of ideas for unique fundraisers, try brainstorming with your team to see if anyone has any unique ideas. Everyone has potential ideas for fundraising, you just have to give them a chance to speak up.
With the internet and social media being such powerful tools, you can create a crowdfunding campaign to help raise money for your team. Really, it's never been easier to raise money for your hockey team.
With these 13 awesome fundraising ideas for hockey teams, you will surely find something that works well for your team!
Disclaimer: This post may contain affiliate links and we might earn a small commission on qualifying purchases at no additional cost to you. This helps us run this website and share more such valuable posts.