How to Ask for Donations on Social Media for Nonprofits (With Examples)
There are many ways to get your followers to support you, but one of the easiest is asking for donations. This is especially true on social media, where users are likelier to follow or befriend you without any personal connection than they would in real life. Telling your followers that you're trying to raise money and they can help you do so by donating feels much less awkward (and less personal) than directly asking them for their own cash.
This blog post will cover everything you need to know about how asking for donations on social media as nonprofit works and some examples of successful fundraising efforts.
How to ask for donations on social media
The first step in asking for donations is to choose the right social media platform and the right way to ask. Here are some guidelines:
Try different types of donation requests to see what works best – From polls to challenges and contests, there are many ways to ask for support. Experiment to find what works best for you and your audience.
Choose the right social media platform – Some platforms are better for donation-based campaigns than others. For example, Instagram and Snapchat focus more on visual content, while Facebook and Twitter are better for text-based posts.
Do your research – If a social media platform allows you to ask for donations, ensure you follow their rules and regulations. Many have rules against donation-based posts or have implemented policies to crack down on spammy donation requests.
Keep your donation request consistent – Donations should be the same across your social media accounts. This makes it easier for people to donate and helps keep track of your campaign.
5 tips before you start asking for donations on social media
Before you dive into writing donation posts and tweets, some best practices can make your donation campaign more successful.
Here are 5 tips to keep in mind before asking for donations on social media:
Choose the right platform – There are a few factors to consider when choosing which platform to ask for donations. For example, some platforms allow you to set up a donation page, whereas others don't. Some are more popular than others, which can affect your reach. And some are better for certain types of content, like visual posts.
Develop a strategy – Before you start writing donation posts, take some time to develop a strategy. Ask yourself why you're asking for donations and what you hope to accomplish with your campaign.
Keep it simple – People are more likely to donate when they can easily understand what they're giving and why. Keep your posts short and sweet so donors can quickly understand what you're doing and how they can help.
Stay positive – It's tempting to focus on the problems your organization is trying to solve, but try to stay positive. People are more likely to donate when they're hopeful and positive than when they feel negative and hopeless.
Be clear and concise – People don't want to read a novel to learn how they can donate to your organization. Be clear and concise, and get to the point.
How to write a good tweet asking for donations?
Social media is not just a marketing channel but also a communication channel. If your followers don't understand what you're trying to say, then your message will fall on deaf ears. It's not just about how you say something but your language.
To ask your followers to donate to your non-profit via Twitter, you can start with something like this: To improve your chances of getting retweeted, you can try to create a list of benefits your donors will receive when donating to your organization.
How to ask for donations via Instagram?
Instagram is a visual-first platform. To get more visual content on your page, you can post pictures highlighting your organization's impact on the community. You can also use pictures of the people you've helped and those who work for your organization.
You can also try using hashtags such as #donate #giveback #help #charity #give. These hashtags are used by millions of people worldwide looking to give to a non-profit organization. By posting these images with these hashtags, you'll be able to reach a wider audience.
Asking for donations on Instagram is similar to asking for donations on Facebook. You can create a post and ask for donations. You can also use polls and quizzes to get feedback from your followers about how much money they are willing to donate.
How to ask for donors via Facebook?
You can ask your Facebook followers to donate money by creating a status. The best times to ask for donations on Facebook are: After fundraising events, On the last day of the month, The last week of the quarter, and On your non-profit's birthday.
Facebook is a great place to share your non-profit's mission and vision. You can ask donors to contribute financially to your mission. Ask your donors how they would like to contribute.
The best times to ask for donations on social media
As we mentioned, social media is a great place to ask your followers to donate to your non-profit. By leveraging the power of these platforms, you'll be able to reach more people, gain more exposure, and get more donors for your organization.
That said, there are certain times during the year when people are more generous than others. Therefore, it's a good idea to optimize your social media donation requests at these times to get a better response from your followers.
Some prominent days can be:
Giving Tuesday
End of the Year Giving
Charity Day
Your Nonprofit's Birthday
Any Social Cause Day
How to craft the perfect social media donation request
When asking for donations via social media, you must use the right language to inspire people to donate to your cause.
Here are a few things you can keep in mind when creating your request:
Use clear and concise language.
Be specific about the amount you need.
Be genuine and authentic.
Make sure to mention the name of your non-profit organization.
Explain how your organization helps people.
Let your followers know how their money will be used.
Be grateful for their support.
Let your followers know how often they can donate.
Provide them with instructions on how they can donate to your organization.
Best practices for asking for donations on social media
When writing donation posts, it's important to remember that you don't have a personal relationship with your followers. Asking for money can feel awkward when you've never met someone in person, so it's important to keep these tips in mind to increase the chances that your followers will donate:
Be authentic – One of the best ways to connect with your followers and build trust and goodwill is to be authentic. Be yourself and write about what you're doing, why you're doing it, and how people can help.
Tell a story – Humans are naturally wired to connect and empathize with one another, so telling a story can help you connect with your followers and inspire them to donate.
Be creative – Don't just write a post that says "donate to us". Be creative and think of different ways to raise money. You could hold a contest or offer rewards for donations.
Tips for making your donation request successful
There are a few extra tips and tricks you can do to make your donation request more likely to succeed. Here are some things you can do:
Make it easy for people to donate – Asking for donations is great, but you also need to make it easy for your followers to donate. Make sure you have a donation button or link on your website and social media pages so people can easily donate.
Include a call-to-action (CTA) – A call-to-action is a message urging people to take action. It could be something as simple as "donate now" or "follow us on Instagram".
Promote your donation campaign – Once you've started your donation campaign, promote it as much as possible. Post about it on your website, your social media accounts, and anywhere else you can think of.
You can use Donorbox for your online donation system, where you can easily set up a donation page, donation link, and QR code and share it seamlessly on your social media.
Thousands of nonprofits use Donorbox to accept online donations via Social media, and you can too.
Top Pick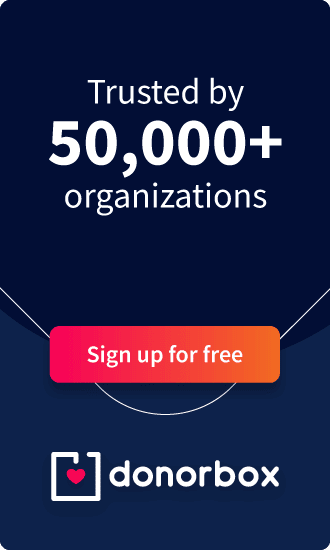 Donorbox
Start fundraising in 15 minutes (absolutely free)

Easy to the setup donation page
Lowest fees of just 1.5% on donations
Can start fundraising in just 15 minutes
No technical experience is needed
Hassle-free donation experience
Examples of how to ask for donations on social media
1. Project K9 Hero
Here's how Project K9 Hero – A non-profit organization that cares for retired Police K-9 and Military Working Dog in the US, tweets and asks for donations on Twitter.
Notice the hashtag. What stands out is that they have tried to explain how their donation can impact.
With examples such as "Pito" (see in the picture below), one can easily understand they are helping retired police dogs.
Lastly, they have shared a link to donate.
Here's the original tweet.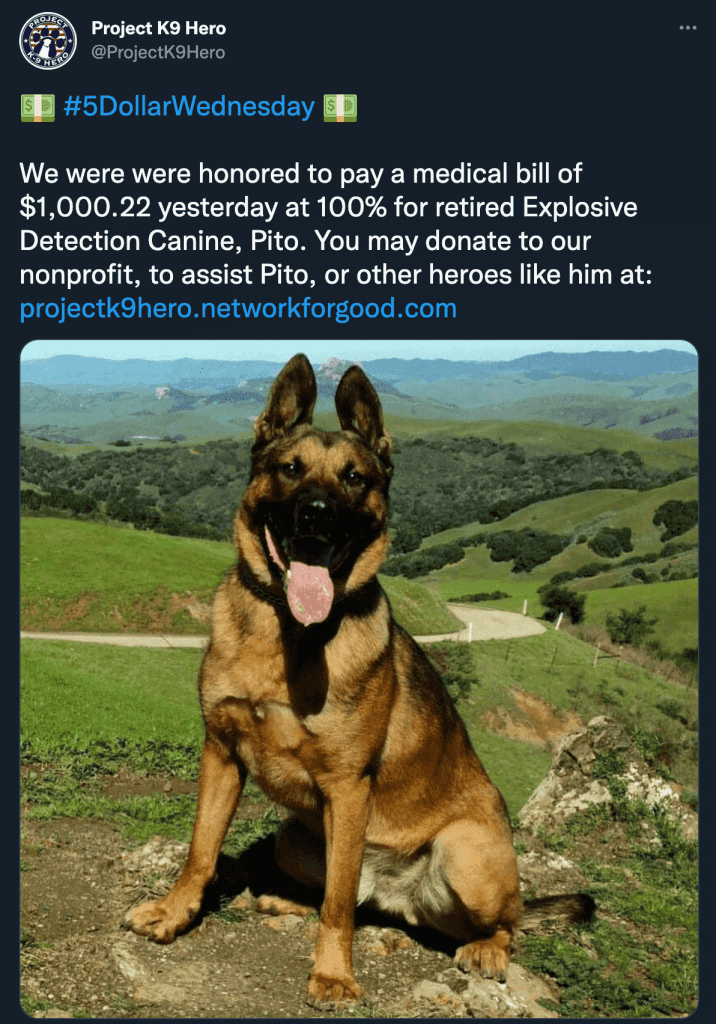 2. Fab Bright Future
Fab Bright Future is a Nonprofit working for underprivileged children. Here is an Instagram post on how they ask for donations.
Notice the nice visual imagery with relevant copy – "Let's do good to the underprivileged"
Then, in the caption, they have shared how one can donate to their charity – via link in the bio.
As simple as that. One can take this as an inspiration on "Asking for donations on Instagram"
Here's the Instagram post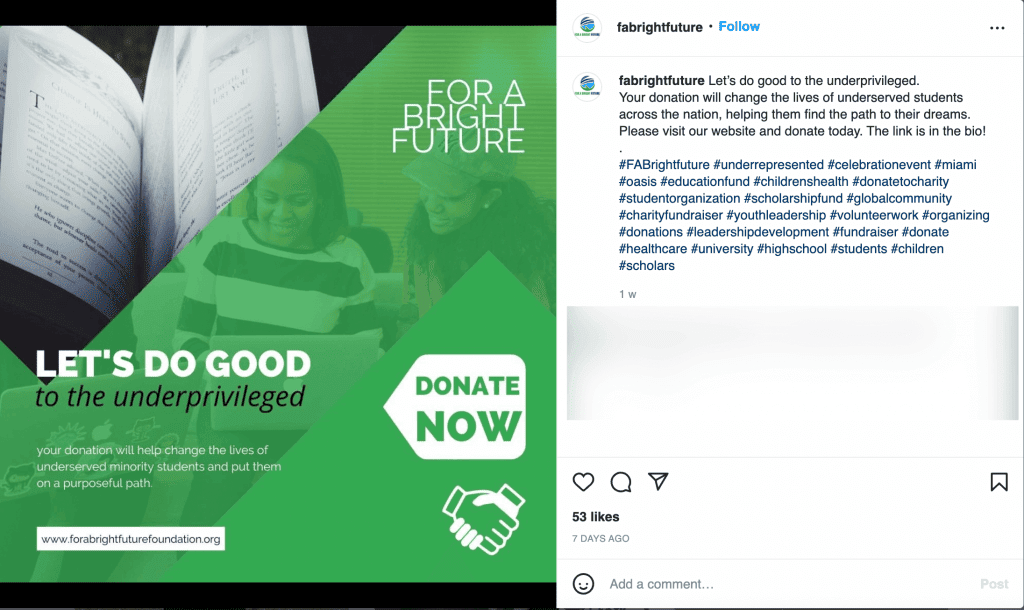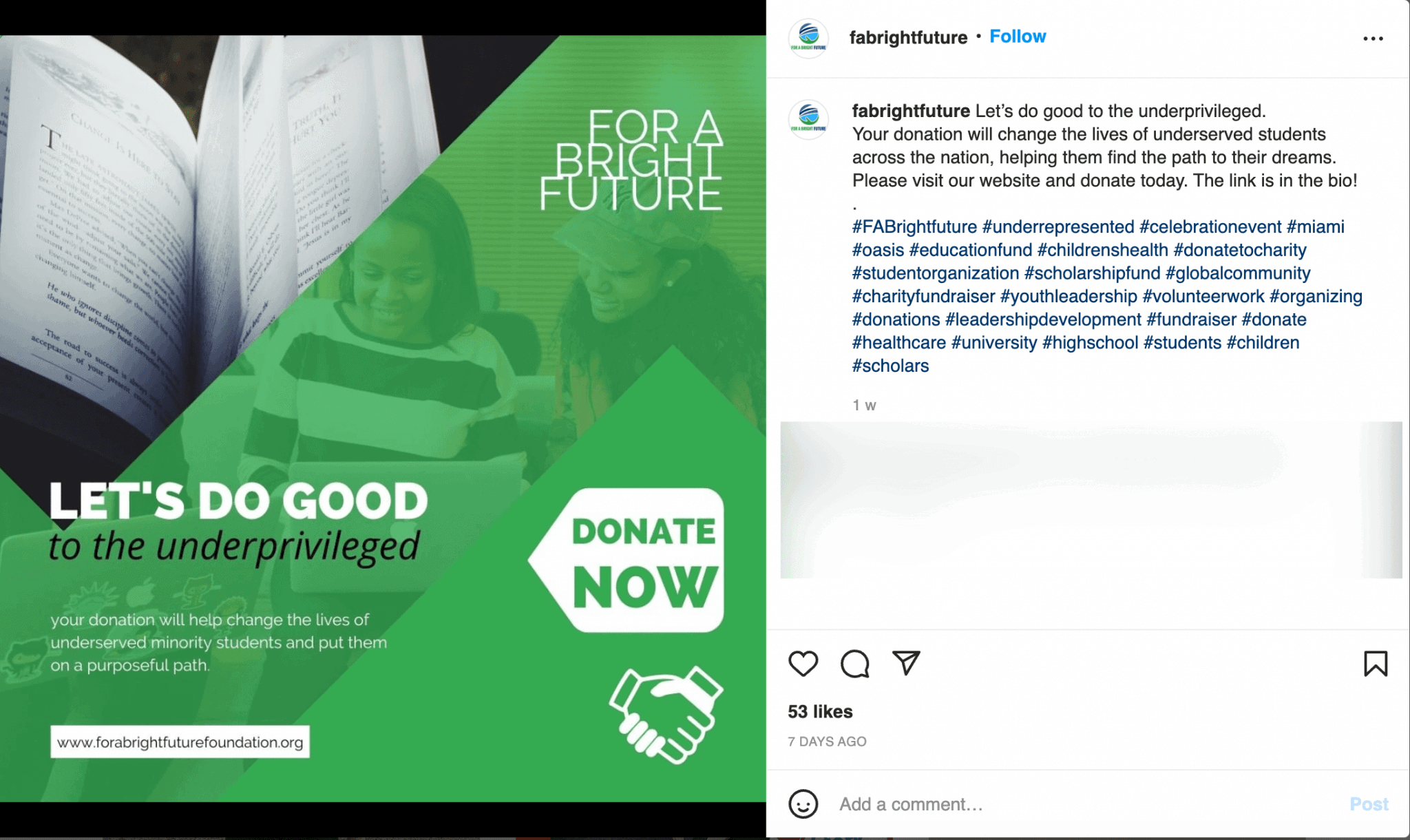 Wrapping Up
Don't forget that social media is about more than just posting content, it's also about interacting with your followers and engaging with them as much as possible. You can ask them for donations and let them know how their support is crucial for your organization.
Remember, you don't need to wait for a special occasion to ask your followers to donate to your non-profit. You can do that any day of the year and let them know how they can support your organization.
Disclaimer: This post may contain affiliate links and we might earn a small commission on qualifying purchases at no additional cost to you. This helps us run this website and share more such valuable posts.