Can I Run a Nonprofit from Home? 6 Tips to Get Started
If you're thinking about starting a nonprofit from home, you'll likely have concerns about whether it is possible. After all, how can you be expected to run an entire organization from your house?
If you're willing to take the risk and answer that question confidently, there are ways to start a non-profit from home. There are numerous successful examples of people who have done it before, so if you're passionate and dedicated enough to see it through, there's no reason why you can't do it too.
Here are 6 tips on running a non-profit from home.
Define your mission and set your goals
Before you begin trying to run a nonprofit from home, you need to sit down and decide what your overall mission and goals are. This will help you keep your organization on track and avoid straying too far off course. You also need to make sure that your organization is legally compliant.
This includes making sure you're not trying to achieve goals that would require you to obtain a license or certification that you don't have. For example, providing medical treatment without a license is illegal, even if you're running a non-profit.
Hire virtual assistants
Depending on the scope of your nonprofit, you may need to hire one or more virtual assistants to help out. These assistants can help you with various tasks related to managing the non-profit. They can also help you take some of the pressure off by helping you stay organized and on schedule.
Depending on the type of assistants you hire, they can help you schedule appointments, create calendars, research, do data entry, and even make phone calls.
A great place to start looking for assistants is Upwork.
This is a global freelance marketplace where you can post jobs and find qualified assistants to help you out.
Set up an online fundraising system in place
While you can start a nonprofit on an offline pen and paper system, you need an online fundraising system to have a truly successful organization. This will make it easier for people to donate to your non-profit and help you track donations and finances more accurately.
There are a variety of online fundraising systems you can choose from. Your best bet is to select a system that is easy to use and affordable. Our recommended donation system for Nonprofits is Donorbox.
Easy to get started and no monthly fees. Seamless to use, even for those without any technical experience.
Top Pick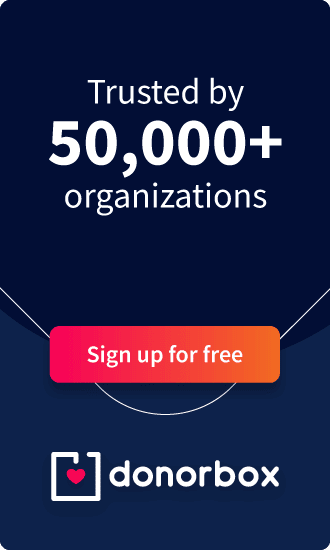 Donorbox
Start fundraising in 15 minutes (absolutely free)

Easy to the setup donation page
Lowest fees of just 1.5% on donations
Can start fundraising in just 15 minutes
No technical experience is needed
Hassle-free donation experience
Install necessary equipment and software.
Depending on the type of nonprofit you start, you may need to invest in equipment, software, and other technology. If your nonprofit is related to health or medicine, you may need to invest in medical equipment.
If you're running a nonprofit that involves children, you may need to invest in some child safety equipment. You'll also want to install any software you need on your computers, such as project management tools and calendars.
Communicate via Video Conferencing
If you're worried that you won't be able to communicate effectively with the people in your organization, consider investing in video conferencing. If you're working with partners or people in different locations, video conferencing can help you communicate clearly without disrupting your household.
It also allows you to see body language, which can help you understand emotions or reactions that might be difficult to convey via written communication. If you're trying to recruit volunteers, video conferencing makes it easy to communicate with them without disrupting your household or making them travel to meet you in person.
Use Collaboration Tools
Collaboration tools can help you organize your organization's efforts and manage communication with volunteers and partners. You can create a platform for everyone in your organization to save information and communicate about projects.
Many services are available to help you do this, including Google Drive, Dropbox, and Microsoft OneDrive. If you're looking for something a little more specialized, plenty of tools are designed to help organize non-profit efforts.
There are many people who have the passion, drive, and knowledge to start a nonprofit from home. Whether you're running a nonprofit for profit or philanthropic reasons, you have the option to start it from home.
If you have the flexibility to do so, starting a nonprofit from home has a lot of advantages. You'll be able to save on overhead costs, like rent. You'll also be able to spend more time with your family while working on your passions.
Wrapping Up
If you're passionate about a cause and want to make a difference in the world, starting a nonprofit from home is a great way to do it.
Before you start, define your mission and goals, hire virtual assistants, set up an online fundraising system, and install necessary equipment and software.
Disclaimer: This post may contain affiliate links, and we might earn a small commission on qualifying purchases at no additional cost to you. This helps us run this website and share more such valuable posts.