140+ Catchy Fundraiser Name Ideas for Cancer (+ Tips)
With so many causes out there, it can be hard to stand out from the crowd regarding fundraising. If you're looking for a way to make your fundraiser unique, why not consider naming it after something memorable?
This means that the name of your event will stand out in people's minds and help them remember you whenever they think about that cause. If you have a specific cause in mind for your fundraisers, such as cancer or another serious illness, choosing a related name is an excellent way to differentiate yourself from other fundraisers.
Here are some ideas for memorable fundraiser names and titles that won't leave people scratching their heads.
140+ Creative Fundraiser Name Ideas For Cancer
A celebration of life
Saving Lives
Fighting The Big C
Cancer Warriors
Life Givers
The Hope Brigade
CaringForACause
Believers
Dream Makers
Cancer Crushers
Limitless Possibilities
Unstoppable
A Cure Is Possible
No Excuses
We Can Win
One Step Closer
Another Day Closer
Small Victories
Giant strides
Power of Pink
Tough as Nails
In It Together
Never Give Up
What Matters Most
Determination
For the Love of Life
HOPE: Hold On Pain Ends
The Greatest Survivors
Living proof
Second Chances
Worthy Causes
Together We Can
No One Fights Alone
One Day Closer
Every Day Counts
A Brighter tomorrow
One Less Person
One More Day
One More Year
A Reason to Hope
A Time for Hope
Action Against Cancer
Add Hope
Against All Odds
Advocate for a Cure
An Encore
Beating the Odds
Breakthroughs
Cancer: Let's End It
Closer to a Cure
Conquer Cancer
Cures Start Here
Dedicated to a Cure
Defy the Odds
Dreams Into Action
Endurance
End Cancer
Endure the Fight
Finding a Cure Starts with You
For a Brighter Future
For Life
Forever Strong
Free of Cancer
from Hope to Cures
Generosity Heals
Get In The Game
Going The Distance
Heart of Giving
Hope
Hope Floats
Hope Springs Eternal
In The Pink
It's Time To End Cancer
Just Do It
Kicking Cancer's Butt
Lead The Way
Light The Way
Live Strong
Making Strides Against Breast Cancer
Many Hands, One Cure
More Than Pink
No One Fights Alone
Nothing Is Impossible
Passionately Pink For A Cure
Playing For A Cure
Power of Hope
Relay For Life
Riding For A Cure
Run For A Reason
Save Lives, Make Strides
Shades of Pink
Share Hope
Ski for a Cure
Support the Cause
SURVIVOR
Survivors Against cancer
Pink out day
Strike Out Cancer
United Against Cancer
Victory Over Cancer
Walk All Over Cancer
Walking For A Cure
We Can Conquer Cancer
When Hope is Not Enough
Wine For A Cause
Workout to Knockout Cancer
Let's look at some Creative Cancer Team Names for Fundraiser:
Cancer Crusaders
Hope Warriors
Team Survivor
Fight Like a Girl/Guy
Kickin' Cancer
Cancer Busters
Hope Heroes
Survivors Unite
The Cure Crew
Cancer Conquerors
The Ribbon Runners
The Cancer Warriors
Hope Hound
The Fighting Titans
The Cancer killers
The Unbeatables
Charity Champs
The Cancer Fighters
The Iron Will
The Pink Panthers
The Cancer Avengers
The Hope Seekers
The Cancer-Kicking Crew
The Triumphant Team
The Miracle Makers
Cancer Walk Team Name Ideas
A cancer walk is an empowering event that brings together people to support a common cause. The team name often reflects the collective spirit of hope, resilience, and the fight against cancer.
Here are a variety of team name suggestions for a cancer walk:
Pace for Prevention
On the Path to Cure
Marching for Remission
Cells Angels
Stride for Survival
Cure-ious Walkers
Steps to Stop Cancer
Healing Feet
The Malignant Marauders
Tumornators
The Chemo-Sabes
Wishing for Wellness
Remission Possible
Rally for Recovery
The Brave Walkers
Hope's Horizon
Miles for Myeloma
Lymphomaniacs
Sarcoma Stompers
Cancer Crushers
Trailblazers for Treatment
The Carcinoma Crew
Melanoma Marchers
Onco Overcomers
The Recovery Road
Walking Warriors
Footprints for the Future
The Hopeful Soles
Chemotherapy Champions
The Benevolent Battlers
Remember, a good team name can also be a wonderful tribute to someone specific or a way to convey a deeply personal message, so feel free to customize these suggestions to better fit the team's unique connection to the cause.
Breast Cancer Team & Fundraiser Names
Choosing an inspiring or clever team name can bring unity and a sense of purpose to a group working together for a cause like breast cancer awareness, fundraising, or support. Here are 20 team name ideas that could be used for such a purpose:
The Pink Warriors
Hopeful Hearts
The Breast Defenders
Fighting Femmes
Ribbon Racers
The Survivor Squad
Warriors in Pink
The Resilient Ones
Bosom Buddies
Pink Crusaders
Strides of Hope
The Rack Pack
Mammoglams
Chest Quest
Hopes in Hues
The Brave Battalion
Treasure Chests
Breast Friends Forever
The Support Bras
Pink Protectors
Pink Pledge Drive
Rally for Recovery
Save the Chest Fest
Fund the Fight Gala
Dollars for Detectives (focusing on research)
Warriors in Pink Benefit
Ribbons of Hope Campaign
The Pink Soirée
Cure with Courage Fundraiser
Thrivers & Survivors Charity Event
Breast Cancer Banquet
Mammo Marathon (for fundraising walks or runs)
Guardians of the Ribbon Rally
Bosom Buddy Bazaar
Hopes in Pink Funding Fair
Race for the Cure (for events like marathons or car races)
Pink Ribbon Rendezvous
Healing Hearts Auction
Pinking of You Fund Drive
Lace Up for the Cure (for sneaker sales or events)
The Pink Affair
Cups of Compassion (for tea/coffee events)
Pink Parade of Purpose
The Hope Chest Campaign
Paint the Town Pink Festival
Beats Against Breast Cancer (music event)
Champions for the Cause (sports event)
Heels for Healing (high-heel themed event)
Paddles for Pink (dragon boat or kayak event)
Pink Angel Pledge Party
When choosing a team name, consider the tone and setting of the event. Some events may call for more lighthearted names, while others, like memorial walks, may require a name that conveys a more serious homage.
5 tips to keep in mind while naming your cancer fundraiser
1. Create a sense of urgency
Creating a feeling of urgency is a great way to set your event apart from others. You can do this with a name such as "Fundraiser to beat cancer before it beats us." This type of name gets people's attention and makes them want to know more. You can also use numbers to create a sense of urgency.
For example, you can use "The Third Annual ________ Fundraiser" to let people know that you've done this before and you've set the bar high with previous events. Another option is to use numbers that are related to the cause. For example, you could name your event "The 5K Race to Fight Cancer."
2. Use the name of your cause as an adjective
If your cause is already well-known, you can use it as an adjective for your fundraiser name. For example, "The Breast Cancer Awareness Walk" or "The Lung Cancer Support Group."
You can also use adjectives related to the symptoms of the illness, such as "The Cancer Symptom Self-Care Workshop" or "The Diabetes Education Program." This approach is especially effective when you want to fundraise for a specific type of cancer, such as "The Ovarian Cancer Awareness Walk."
This approach is also a good idea for fundraising for a less-common type of cancer that may not have as much awareness surrounding it.
3. Mention the cause directly
If your fundraiser is specific to one type of cancer, you can use the name of the illness in your fundraiser name. For example, "The Pancreatic Cancer 5K Race." Another option is to describe the problem that your cause is trying to solve.
For example, "The Breast Cancer Prevention Walk." You also might consider using the name of the type of treatment your cause is related to, such as "The Chemo Party Fundraiser" to benefit cancer patients receiving chemotherapy treatment.
4. Partner with a brand that means something to people
If you're putting together a fundraiser for a cause that doesn't have a catchy name, partnering with a brand that means a lot to people can be a good idea.
For example, a breast cancer fundraiser could partner with a brand such as Susan G. Komen. Another option is to name your event after a famous person who has survived a serious illness and gone on to live a full and successful life.
For example, you could hold a "Ginger Rogers Walk" for ovarian cancer awareness. Choosing a name that is associated with a person who has overcome a serious illness gives people hope that they can live a full life with their condition, too.
5. Make it personal for your group or organization
This approach works best if your group has a clear, identifiable mission. For example, if you're fundraising for pancreatic cancer survivors, you could name your event "The Purple Ribbon Walk" to represent the color of the ribbon associated with pancreatic cancer.
Purple is a symbolic color that represents strength and hope. Another option is to name your event after the founder of your organization, as in the "Olivia's Celebration of Courage."
If you're fundraising for a specific cause, such as childhood cancer, you could name the event "The Drea's Heroes Walk." This approach is especially effective for organizations with a smaller membership.
Bottom line
The most important thing when picking out a name is to choose a name that will be memorable. If you're struggling to come up with a name, try brainstorming with your team or brainstorming with your team. You may find that you have more fundraiser name ideas when you work together.
Once you have a few choices, run them by your team and see which ones get the most positive feedback. There's no sense in spending tons of time and energy on a name that people aren't going to remember. Good luck with your fundraising.
Bonus: Start Cancer Fundraising within Minutes (with Donorbox)
Once you have a fundraiser name ready with you, it's time to start online fundraising for your campaign.
We highly recommend signing up with Donorbox to get your fundraising kickstarted within minutes.
Top Pick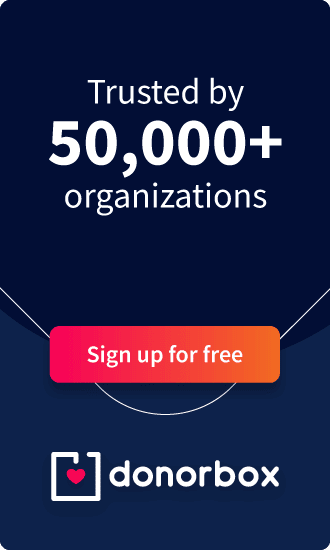 Donorbox
Start Cancer fundraising in 15 minutes
Easy to the setup donation page
Lowest fees of just 1.5% on donations
Can start fundraising in just 15 minutes
No technical experience is needed
Hassle-free donation experience
Start crowdfunding campaigns for free
Disclaimer: This post may contain affiliate links and we might earn a small commission on qualifying purchases at no additional cost to you. This helps us run this website and share more such valuable posts.