13 Holiday Donation Drive Ideas To Consider For Your Next Fundraising Campaign
Holiday giving means double the impact for your nonprofit. Donors open their hearts to give back during this time of year, and your nonprofit organization can take full advantage of the season by hosting a holiday donation drive. A successful donation drive will help you raise more money, reach new donors, and increase visibility.
These donation drives provide an ideal opportunity to connect with local community members who may not be aware of your organization and what services you offer. Making sure that these donation drives are well-planned, organized, and managed is key to making them an effective fundraiser for your cause.
Take a look at some inspiration for how you could run a holiday donation drive for your non-profit organization.
13 Holiday Donation Drive Ideas To Consider For Your Next Fundraising Campaign
Have a Blanket Drive
During the holidays, one of the most in-demand items that many nonprofit organizations need is warm blankets. Blankets are essential for those in need, whether for the homeless, cold weather shelters, or children.
Hosting a blanket drive is a great way to engage your community and fill a need during the holiday season. Blanket drives are ideal as they are one-time events that can be executed fairly quickly and do not require volunteers to be present during the drive.
Blankets can be collected in person or you can have them shipped to your organization. Make sure to have clear instructions on what types of blankets to donate and information on where the blankets will be going. You'll want to be sure that the organization receiving the blankets will have the space to store them.
Hold a Cookie Decorating Event
Who doesn't love cookies? Especially during the holidays, cookies are a tasty and appropriate treatment to give as a gift. Hosting a cookie decorating event is a great way for your organization to engage with the community and raise funds for your cause. This event is best suited for younger volunteers, as you'll need a kitchen space for your participants to bake the cookies. 
Cookie decorating events are best suited for the holiday season, but you can also host them throughout the year. You can host a cookie decorating event on your own or partner with another organization. If hosting the event on your own, make sure that you have enough space for people to bake the cookies.
If you decide to partner with another organization, make sure they are a good fit for your event. You don't want too many participants for the other organization's space.
Have a giving wall and fundraiser
If you have wall space available at your organization, consider setting up a giving wall. A giving wall is a large bulletin board that accepts donations from your community.
You can set up your giving wall during the holiday or year-round, but it's a great addition to any holiday donation drive. People will be drawn to the visual nature of the giving wall, which makes it an appealing addition to any space. A giving wall is an easy fundraising option for both volunteers and employees.
Not only does the giving wall raise money, it can also help to create buzz for your organization by getting the word out about your drive. Giving walls are a great option for organizations that don't have a large budget but want to host an effective campaign.
They are also good for organizations that want to appeal to a wide range of donors by hosting a giving wall that accepts items from individuals, businesses and nonprofits.
Host a clothing or supplies drive
If you have the appropriate space, hosting clothing or supplies drive is another great way to engage your community during the holiday season. Clothing and supplies drives are great for youth organizations or those looking to serve the less fortunate during the holiday season.
Before hosting a drive, ensure you know where the items will be going and how they will be distributed. Your goal for the drive should be to collect as much as possible, but this can be difficult for a drive that takes place at one specific time.
To avoid leaving items uncollected and adding to your organization's workload, consider hosting the drive over multiple periods, or even over a year or more. You can host a drive online, go door-to-door, collect items in person, or have drop-off points throughout your community.
Celebrate with a holiday party for your volunteers
Every organization has passionate community members who volunteer their time to help out. If you have a particularly strong group of volunteers, consider hosting a holiday party and rewarding them for their hard work with a get-together.
Celebrating and thanking volunteers is important, as it encourages others in the community to join the team and serves as a reminder of how important volunteers are to your organization. Holding a holiday party is a great way to celebrate your volunteers and show them how much they are appreciated.
You can also use the party as an opportunity to recruit new volunteers by inviting those in your community who may be interested in getting involved.
A Christmas Carol Promotion
One of the most iconic songs during the holiday season is "The Christmas Carol." Host a Christmas Carol promotion where you ask donors to share their favorite version of the song on social media using a specific hashtag.
Hosting a Christmas Carol promotion is a great way to appeal to your donors and encourage them to share their support on social media. This is also an opportunity to create fun content you can share on your organization's social media channels.
An Ugly Sweater Run/Walk
Consider hosting an ugly sweater run or walk if your organization is in a warm city or region. This is a great way to engage your community and attract runners or walkers to your event.
Hosting an ugly sweater run or walk is a great way to appeal to runners or walkers of all levels during the holiday season. You can also host this event year-round if you live in a warm climate.
A Cookie Exchange Fundraiser
One of the most popular holidays treats is the humble cookie. Consider hosting a cookie exchange fundraiser where you invite donors to exchange cookies for a donation to your organization.
Hosting a cookie exchange fundraiser is a great way to appeal to donors of all ages and collect significant funds for your organization. This type of fundraiser is best suited for organizations with a strong donor base and close to each other.
A Winter Coats Drive
During the holiday season, one of the most in-demand items that many nonprofit organizations need are winter coats. Hosting a winter coats drive is a great way to collect these items and simultaneously raise money for your organization. Before hosting a winter coats drive, ensure you know where the coats will go. 
This is important if you are hosting the drive online, as you'll want to be sure that the coats go to the right place. Hosting a winter coats drive is a great way to collect coats in person or online. If you host a winter coats drive online, make sure that your donors know where the coats are going and how they will be distributed.
If you are hosting a winter coats drive in person, make sure that you have a system in place to ensure that the coats go to the right place at the end of the drive. These are just a few of the many ways that you can host a holiday donation drive. Doing so is a great way to engage your community and raise money for your organization.
Run a Co-op Ad Campaign
A co-op ad campaign is a joint advertising effort between multiple organizations. Running a co-op campaign allows you to pool funds with other organizations and receive a lower rate per ad. This type of campaign is ideal if you want to leverage your advertising dollars' power to get the most bang for your buck.
Co-op rates vary depending on the medium you are advertising with and the number of organizations involved. To get started, find out if any organizations in your community are also running a holiday donation drive.
If not, reach out to some local nonprofits and offer to partner with them for a co-op campaign. The more organizations you partner with, the more exposure your organization will receive and the higher the rate you'll get for your ads.
Organize a food drive
Food drives are one of the most traditional methods of charitable giving. They're easy to organize, they're accessible to a wide array of individuals, and they have the potential to benefit others in a very tangible and valuable way.
While many popular charities such as the Red Cross and the Salvation Army cannot accept food items as donations, there are still plenty of organizations, charities, and food banks that would love to have your support. 
If you want to organize a food drive, ensure you're targeting the right organizations and find out how and where you should drop off your donations. Remember that you don't have to limit food drives to the holiday season. Any time of the year is a great opportunity to get your community together for a food drive. Just be sure to give yourself enough time to advertise your event so that you can meet your donation goal!
Partner with big-name brands
Many popular brands like Coca-Cola and Heinz have adopted philanthropy and charitable giving as part of their corporate social responsibility initiatives. They have specific initiatives and partnerships to support charities and organizations worldwide.
By partnering with these big-name brands during your next holiday fundraising drive, you have the potential to multiply your donations greatly. Call these brands and see if they have a partnership or initiative focused on your organization's mission and goals.
Have an online giving option
Online giving has become an incredibly popular charitable giving over the last decade. Websites like GoFundMe, GiveForward, Donorbox, and many others have helped to make online giving more accessible to people from all walks of life.
Why not take advantage of this trend and offer an online giving option for your next holiday fundraising campaign? This will help you to expand your donor base and meet your donation goals even faster.
We recommend Donorbox as the best online giving option.
Top Pick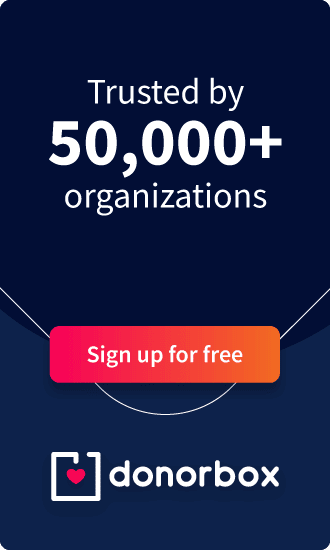 Donorbox
Start fundraising in 15 minutes (absolutely free)

Easy to the setup donation page
Lowest fees of just 1.5% on donations
Can start fundraising in just 15 minutes
No technical experience is needed
Hassle-free donation experience
Make it easy for people to give
While it's important to make charitable giving accessible, it's also important to make it easy for your supporters to donate to your cause. If your organization is hosting a holiday fundraising drive, make sure your supporters can donate via their preferred method of giving.
This might include holding an in-person donation drive, setting up an online giving option, or hosting a virtual fundraiser.
Why hosting a holiday donation drive is so important?
Throughout the year, people are extremely generous and charitable. However, during the holiday season, people aren't always thinking about giving to charity. They often focus on buying gifts, spending time with family, and preparing for holiday festivities.
During this busy time of year, your organization may have difficulty receiving donations since people aren't as focused on donating their money.
Your holiday fundraising drive allows you to capitalize on the busy holiday season and receive extra donations from those who may not otherwise donate to your cause.
How to use email marketing before your drive
Email marketing is incredibly effective in reaching out to your audience and building engagement with your brand. It's also great for engaging with your audience and building excitement about your upcoming holiday fundraising drive.
You can use email marketing to inform your supporters about the charitable giving season and the importance of giving back. You can also use it to build excitement for your holiday fundraising drive by sharing the goal amount you're trying to raise, the donation methods you're accepting, and the benefits of giving to your organization.
We recommend using MailerLite as the most affordable email marketing solution out there. With 1000 subscribers, you can use it free of cost.
Final Thoughts
The holidays are an amazing time to get together with loved ones and celebrate the spirit of giving. It's also a great time to think about supporting charitable causes and organizations that aim to better the lives of others.
By hosting a successful holiday donation drive, you have the potential to meet your donation goals and save lives and improve the lives of others. By following these tips, you can confidently prepare for and execute your holiday donation drive. So what are you waiting for? Get started today.
Disclaimer: This post may contain affiliate links and we might earn a small commission on qualifying purchases at no additional cost to you. This helps us run this website and share more such valuable posts.