The Fundraising Pyramid for Nonprofits – A Blueprint for Success
Anyone who has worked in the non-profit sector will be familiar with the fundraising pyramid for any length of time. The image — which depicts a small number of donors giving large sums of money and a more significant number of donors giving smaller amounts — is often used to explain the challenge that smaller nonprofits face when trying to meet their funding needs.
However, while this famous visual has stuck with us all these years later, its usefulness as an explanation for why nonprofits struggle with funding is limited. There are many different ways to look at a fundraising pyramid. The fundraising pyramid is one of the most valuable models for effective nonprofit management rather than a useless relic from the past.
What is a fundraising pyramid?
A fundraising pyramid is nothing but a visual illustration of a non-profit's income sources — usually shown as a stacked bar graph.
In fundraising, "donor" is a term that refers to anyone who gives money to a nonprofit or charity. There are two main types of donors: Major donors provide a significant amount of money over a long period. This group can include individuals, families, corporations, or foundations. Most nonprofits receive the bulk of their funding from the second group: smaller donors or donors who give smaller amounts of money either regularly or one-time only.
How to read a fundraising pyramid
Reading a fundraising pyramid is as simple as seeing how different segments of donors fit into the pyramid's structure. If you have a particular amount that you're trying to raise, you can also use the chart to see how many donors you need from each group to reach your goal.
For example, the pyramid base, including your most significant donors, can consist of donors who give you large one-time gifts. Meanwhile, the upper portion of the pyramid — where you'll find your recurring donors — can include donors who give smaller amounts of money on an ongoing basis.
Here's an example of how a fundraising pyramid might look.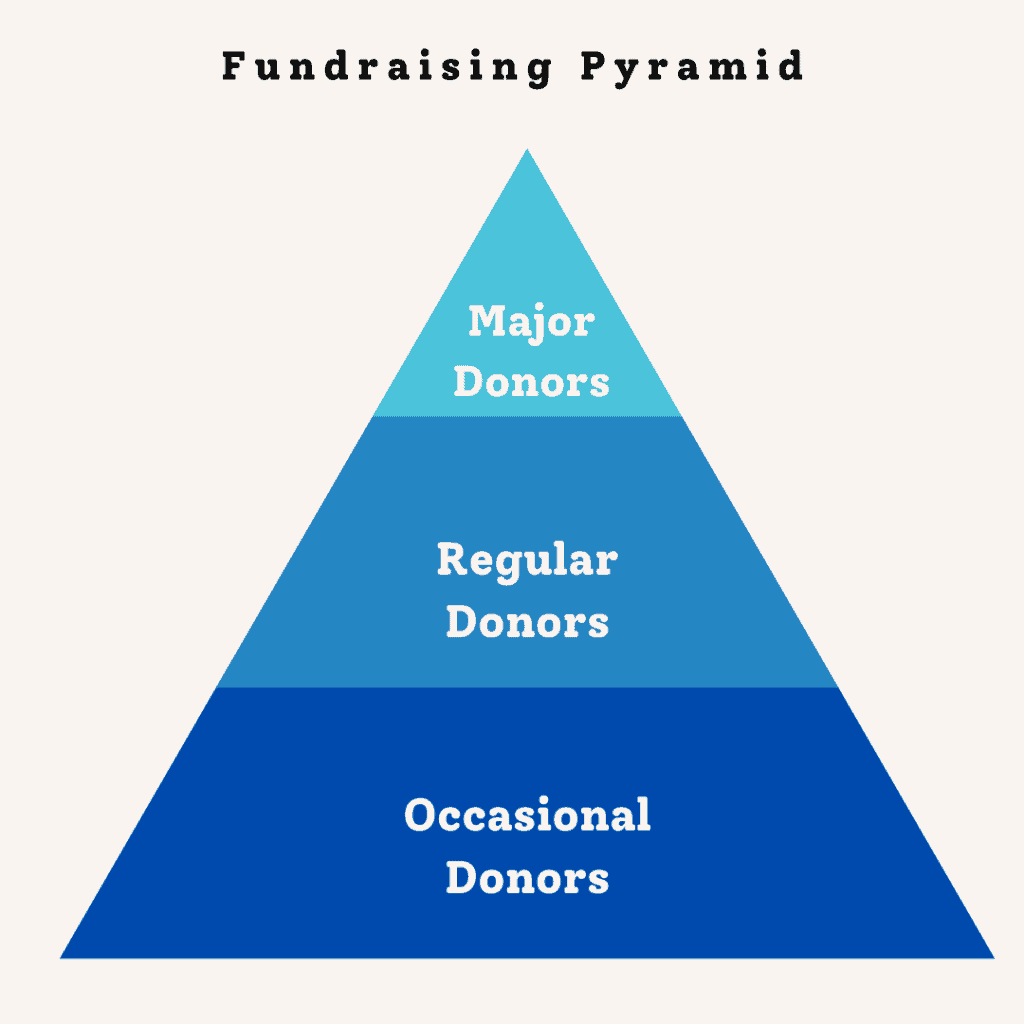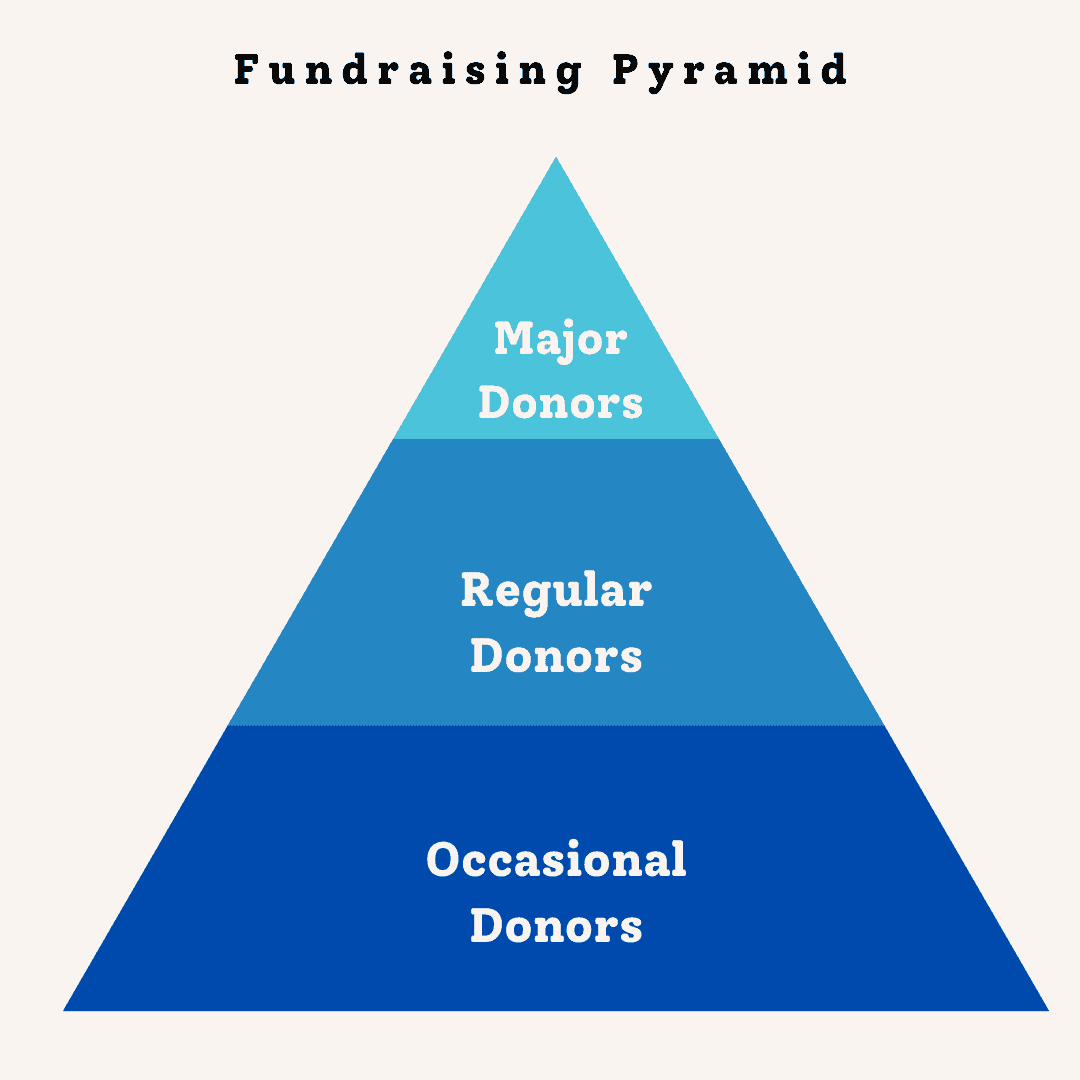 The first thing to note is that the fundraising pyramid is a model rather than a strict set of rules. While we can learn a lot from the traditional fundraising pyramid, each nonprofit organization is different, and each fundraising model will be unique.
That said, what we can take from the fundraising pyramid is an understanding of the most effective way to manage fundraising efforts in your organization. The most important part of the fundraising pyramid is creating a solid base of donors. These donors will provide the bulk of your funding and help you to ensure that your organization is sustainable. You can build this base of donors in two ways. First, identify your existing donors and explore ways in which you can increase the amount that they give. Second, increase your capacity to attract new donors and grow your donor base.
Types of Donors in a Fundraising Pyramid
Major Donors
These are donors who give a significant amount of money to your non-profit. Large cash gifts such as legacies and planned gifts are examples of substantial donations. Major donors may also write checks regularly or give to your organization at high-profile fundraising events, such as galas or other special occasions. Major donors are essential for many reasons.
First, the more donors you have who give large amounts of money, the less time and effort other donors will have to provide. Second, major donors can help you reach your fundraising goals sooner, making your charity more efficient. Major donors are vital for most nonprofit organizations, especially for smaller non-profits that don't have the same capacity to fundraise as larger institutions. If a donor is offering a large amount of money, they may expect some say in using the funds.
For this reason, major donors are often referred to as benefactors.
Regular Donors
Regular donors give smaller amounts of money over a long period. This can include donors who make monthly or weekly payments through a payroll deduction plan. It can also have donors who make smaller one-time gifts.
Regular donors are essential because they help your nonprofit become sustainable. You want to encourage regular giving because it allows donors to become invested in your organization and can be more reliable than one-time donations.
They are often seen as the backbone of the nonprofit community.
Finding the Right Mix: Mapping Outreach Efforts
Now that you understand the different segments of donors that make up a fundraising pyramid, you can start to map out your outreach efforts. You want to focus your efforts on growing your base of donors and increasing the amount that each donor gives.
First, you can work on improving your capacity to find new donors. This can include hosting donor events, attending conferences, and searching for new funding opportunities.
Next, you can focus on growing your roster of donors. This can be as simple as asking your existing donors to give more. You can also encourage your donors to recruit people to give to your organization.
Finally, you can also consider offering more donation options to your donors. This includes online giving and giving formats that allow donors to provide more small amounts regularly.
The Fundraising Pyramid Template
Finally, you can use the fundraising pyramid as a template to organize your outreach efforts. You can also use it as a fundraising goal-setting tool. To do this, start by setting fundraising goals for each pyramid level. Then, you can use the pyramid to organize your outreach efforts. This means that you look at each pyramid level and decide which donors you want to target. Next, you can create outreach plans that focus on each level of the pyramid and outline how you will engage with donors in each group.
Final Thoughts
The fundraising pyramid is one of the most valuable models for effective nonprofit management.
It's important to remember that a fundraising pyramid isn't set in stone. You can adapt it to fit your specific needs and situation. It's also important to remember that it's a guide, not a rule.
Every nonprofit is different, and each fundraising campaign will be unique. You can use the pyramid to organize your outreach efforts, but don't let it dictate how you approach to outreach.