50+ Funny Fundraiser Names for Fundraising Campaigns (With Tips)
If you're looking to raise funds for your nonprofit, you'll need to come up with some clever and funny fundraiser names. Fundraising is a tough process; having the right name can make or break your organization's chances of reaching its target.
If you want to convince donors that your cause is worthy of their support and not just sell them something they don't want, then you must give your fundraising campaign a great name that will catch the attention of potential contributors and resonate with them in some way.
Let's look at some funny fundraiser names for nonprofits that have proven effective during the fundraising campaign.
50+ Funny Fundraiser Names for Nonprofits
Penny for Your Thoughts
Dollar for Your Dreams
Quarter for Your Causes
Dime a Dozen
Nickles for a Cure
Pennies from Heaven
A Buck for Your Luck
A Few Coins for a Change
Fifty Cents for a brighter Future
A Penny Saved is a Penny Earned
Every Little Bit Helps
No Donation is too Small
Bake Sale for a Cause
Pie in the Face Fundraiser
Walk a mile in their shoes
A Spoonful of sugar
No Donation is too Small
All together now
Power in numbers
Making a difference
One person can change the world
Little drops of water
Ripples of hope
Seeds of change
Pay it forward
One day at a time
One step at a time
Inch by Inch
Mile by Mile
The Journey of a Thousand Miles Begins with a Single Step
Each One, Reach One
Many Hands Make Light Work
Spare some change?
It Only Takes a Little Bit!
Every Little Bit Helps!
Just a Few Dollars!
Try; you Might Like It!
ALl for a good cause
Every Little Bit Adds Up!
Every Donation Helps!
Do Good, Feel Good!
It's The Right Thing To Do!
Every Penny Counts!
Change Starts With You!
A Buck for Your Change
Two Bits for Your Time
A Few Bucks for Your Future
Small Change for Big Causes
Raise the Roof
Walk the Walk
In it to win it
Going Above and Beyond
Give a Little, Get a Lot
A Buck for Your Barn
Fifty Cents for a Friend
6 Tips for Naming Your Fundraiser
When naming your fundraiser, you must choose something that resonates with your audience. After all, while your fundraising name might be funny to you and your team, it might not be so funny to potential donors. There are a few things to keep in mind when naming your fundraiser:
Make it visual – Visual cues are great for helping people quickly understand what you're fundraising for. Make sure your fundraising name includes something visually striking so that people can easily associate your fundraiser with your cause.
Make it unique – When naming your fundraiser, avoid using generic terms like "walk" or "run." Instead, try to create a unique name that stands out from the crowd.
Make it relevant – Your fundraising name should be relevant to your cause. If you're fundraising for an animal shelter, don't name your event "People for Animals."
Make it short and snappy – You don't want your fundraising name to be too long or complicated. Keep it short and snappy, so it's easy to remember and say.
Make it positive – Your fundraising name should be positive and upbeat so that donors feel positive when they see or hear it.
Make it inclusive – Your fundraising name should be inclusive so that everyone feels welcome to donate to your fundraiser. Make sure it doesn't single out any specific groups or exclude others.
When coming up with a fundraising name, try to think outside the box
The last thing you want is to have the same boring, bland fundraising name as every other nonprofit. You want to stand out from the crowd and get donors' attention. So, think outside the box when coming up with a fundraising name.
You might have a silly idea that nobody else has ever thought of. It could even be a play-on-words type of name. Whatever you decide to call your fundraiser, make sure it's something unique and memorable. This will help donors remember your cause and make it easier for them to donate online.
It's also important that your name is relevant to your cause. Make sure you're fundraising for something beneficial for the general population.
Choosing the right platform for your funny fundraiser name is important.
The first thing potential donors will see when they come across your fundraising name is the platform it's on. You must choose the right platform for your funny fundraiser name.
For example, fundraising for your local animal shelter and choosing the wrong platform could look spammy or overwhelming. For example, if you're using Facebook for your fundraising name, you might want to create a separate page for your fundraiser.
This will help you keep your personal and professional lives separate and make it easier for people to donate to your cause without being bombarded by your personal posts.
Anyway, you can setup a donation or fundraising page with Donorbox seamlessly within minutes.
Top Pick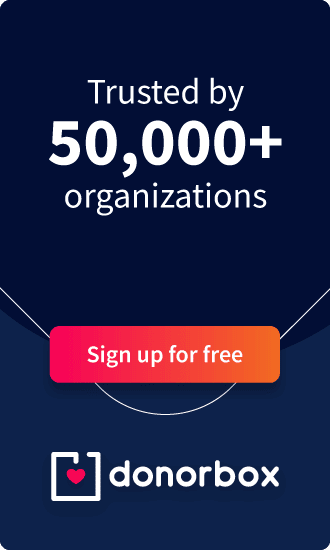 Donorbox
Start fundraising in 15 minutes (absolutely free)

Easy to the setup donation page
Lowest fees of just 1.5% on donations
Can start fundraising in just 15 minutes
No technical experience is needed
Hassle-free donation experience
2 Final Words: Go For Humor
Some might say that humor is the wrong choice for a fundraising name. They might say that it's too silly or that it's not professional enough. But don't listen to them. If you want to raise funds for your cause and make people laugh simultaneously, go for it!
Humor can be the best way to connect with potential donors and show them that you're a fun organization that deserves their support. So have fun with it and come up with a catchy and creative name that makes people laugh. Your donors will thank you for it. And they'll probably be more likely to donate to your cause.
Summing Up
You must create a catchy, creative, and funny fundraising name to raise funds successfully. The best fundraising names are funny but also effective, and they help you to stand out from the crowd.
Once you've chosen a name, you can build your campaign around it and use it in your marketing materials to help promote your cause. So when coming up with a fundraising name, try to think outside the box and come up with something unique and memorable.
We hope this article will inspire you to get even more creative and funny fundraiser names for your next fundraising campaign.
Disclaimer: This post may contain affiliate links and we might earn a small commission on qualifying purchases at no additional cost to you. This helps us run this website and share more such valuable posts.