What is Donor-Centered Fundraising for Nonprofits?
Donor-centered fundraising is a philosophy and methodology that puts the needs and interests of the donor first. It's a way of ensuring the donor feels connected to your nonprofit organization. It's been around for decades, but it's only in recent years that nonprofits have really started to take notice.
With donor-centered fundraising, you show donors how impactful their contributions can be on your organization. You do this by communicating regularly with them, showing them how their donations are making a difference in people's lives, and thanking them for their generosity.
Here are some ways that donor-centered fundraising can work for your nonprofit organization.
The Donor-Centered Fundraising Process
The donor-centered fundraising process is a four-step cycle:
Connect with donors and highlight your nonprofit's mission and why it's important
Invite donors to participate in your organization's work by making a donation or volunteering their time
Report back to the donor on how they helped make an impact on people in need, what was accomplished, how it made an impact, and the difference they made
Thank them for their contribution
What are the benefits of donor-centered fundraising?
The benefits of donor-centered fundraising are many. It can help you:
Build a relationship with donors so they feel connected to your organization
Increase the likelihood of receiving donations through the use of traditional and non-traditional fundraising techniques
Encourage recurring giving from donors who feel invested in your cause
How Traditional and Donor-Centered Fundraising Compare on Retention and Gift Value
How to start a donor-centered fundraising campaign for your nonprofit?
The first step in starting any donor-centered fundraising campaign is to gather information about your donors. You do this early on, so you can build a relationship with them and show them the impact they're having.
One way to start this process is by asking questions about their background and interests. Questions you might ask include:
What do they like to do for fun?
What are their hobbies?
What causes or industries are they passionate about?
Another effective way to gather information is to ask your donors how they would prefer to communicate with you. Are they more comfortable reading newsletters or receiving email updates?
Do they prefer phone calls or text messages?
Once you know who your donors are and how you want them to be contacted, it's time to start thanking them for their generosity. Donor-centered fundraising starts by thanking your donors for donating first. This sets the tone for all future communication, which should be warm and appreciative.
Consider your audience and the needs that they have
The next step to donor-centered fundraising is to understand your audience and their needs. You want to know what they care about and how you can help them.
Set up a regular communication schedule with your donors. This doesn't mean just sending an annual thank-you letter or email update. It means being proactive in updating them on your progress, asking for their input, and letting them know exactly how their donation is making an impact.
You should also be sure to include a "How Your Donation Helps" section on your website where a donor can see the specific areas that their contribution will go towards. This way, they have a better understanding of the impact of their donation and feel more connected to your organization.
Create a plan that helps donors identify with your organization
When adopting donor-centered approach to your fundraising, writing a plan is very crucial. This will help you lay out your goals and ensure you're sticking with them.
It's also important to create a plan on how you want your donors to identify with your organization. It should clearly articulate why people should be involved and what the benefits are for them, as well as show what they can expect from you and your organization.
Your plan should also include an outline of how you want people to feel about your organization and what that looks like.
Online Fundraising with Donorbox
Top Pick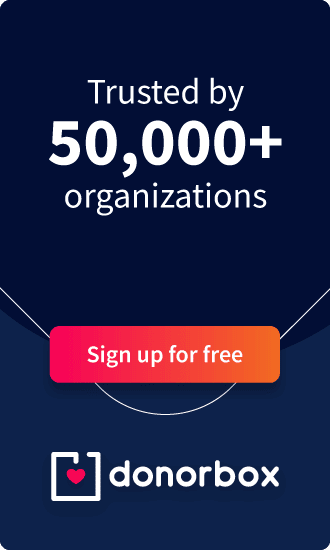 Donorbox
Start fundraising in 15 minutes (absolutely free)

Easy to the setup donation page
Lowest fees of just 1.5% on donations
Can start fundraising in just 15 minutes
No technical experience is needed
Hassle-free donation experience
To leverage online fundraising and reach more donors, you can sign up with Donorbox (One of the best online fundraising solutions for nonprofits) and start collecting donations online.
Over 50,000 + nonprofits use Donorbox to raise money online. Keeping a track of donors and their contributions is a crucial factor whilst you are taking a donor-centered fundraising approach. You can track all the metrics and provide a seamless experience to your donors with Donorbox
Final Thoughts
Your donors are the lifeblood of your nonprofit. When you treat them as the most important people in your nonprofit, you are more likely to get their continued support.
Donor-centered fundraising is a process that allows you to focus on the needs of your donors. It is based on the idea that donors are more likely to get involved with an organization that they feel close to. When you focus on their needs, they are more likely to respond.
Your donor-centered fundraising campaign should be tailored to the needs of your specific audience. Although it may seem easier to simply ask for money, you can greatly increase your chances of getting donations by asking them what they need. The more personalized your campaign, the better!