9 Church Anniversary Souvenirs Ideas to Keep the Memories Alive
Churches and other organizations often issue special souvenirs to mark significant events. Some examples are yearbooks for schools, ticket books for sports teams, or special pins or coins for youth groups or the organization. These unique mementos not only preserve memories of the people and experiences in your life but also help keep that feeling of belonging and camaraderie alive long after you're gone. Church anniversary souvenirs can serve the same purpose.
They are small tokens that mark a special occasion while also providing a way to keep it in mind in the future. Your members will appreciate receiving something they can keep as a personal reminder of their time with you and your faith community. Depending on your church's traditions, there are many options to consider when choosing church anniversary souvenirs.
Church Anniversary Souvenirs: Why and When?
Communication and recognition are two key ingredients for healthy church culture. Bringing more attention to your church anniversary can help you achieve those goals. Holding an anniversary celebration shows your members that you value your history and traditions. It also allows you to recognize your members' contributions and send a message of gratitude to everyone who has played a role in the life of your church. 
You can achieve these goals through the gifts you give as souvenirs. In addition, church anniversary souvenirs can make great gifts for guests and visitors.
Church anniversaries are among the most common occasions for special celebrations. These events often draw people who are not part of the church community. You can use the commemorative gifts you give to mark the occasion and welcome these guests into the fold.
Here are 9 Church Anniversary Souvenir Ideas:
Pins
Pins are popular souvenirs for anniversaries. You can create a custom design for any special occasion, including a church anniversary. You can give a few types of pins, including lapel pins, tie tacs, and corsages.
Lapel pins are usually worn on a jacket or shirt, tie tacs go on a tie, and corsages are pinned to a shirt or jacket for women.
Some pins can be worn on other items, such as bags, lanyards, and scarves. If you're planning to give pins as church anniversary souvenirs, order them in advance so you have enough time to design and produce them.
T-shirts
T-shirts are a popular choice for church anniversary souvenirs. You can create and design a special version of the shirt to mark your church anniversary and add a personal touch to the gift.
There are a few things to consider when choosing t-shirts as church anniversary souvenirs. The first is the type of fabric to use. You can go with cotton or a softer fabric like polyester that is easier to wash.
The next decision is between short- or long-sleeved shirts. Finally, you'll have to choose the color and design of the shirt.
Bowls and Plates
Another popular choice for church anniversary souvenirs is a commemorative bowl or plate. You can get these items in various materials, including ceramic and porcelain. The great thing about these souvenirs is that they can be used for daily meals. They are also very affordable to produce, making them accessible for everyone in your church.
You can get creative with the design of these church anniversary souvenirs. A typical option is to include the name of your church or the anniversary date. or include a special message that is meaningful to your church.
Mugs and Coasters
Mugs and coasters are other common options for church anniversary souvenirs. These items can be produced in a variety of styles. You can choose plain items that can be decorated with a special design or get a pre-decorated mug or coaster.
The mug or coaster you use depends on your needs for the item. For example, you can get a travel mug for a coffee drinker or a traditional mug for a tea drinker.
If you're giving these church anniversary souvenirs to a large group, you can get custom coasters or mugs with the same design.
Calendars and Framed Prints
Calendars and framed prints are unique anniversary gifts that are particularly good for church gifts. You can frame original artwork, photographs, or scans of historical documents.
If you frame photographs, make sure they are of your church and contain members who are still a part of your community. You can also choose to include an inspirational quote or Bible verse. Another option is to purchase a calendar that includes church-related photos or images.
You can create your own calendars with images or photos of your church and community members. You can also find pre-made calendars with images of churches and other religious symbols. Another option is to purchase calendars that have inspirational quotes or Bible verses.
Collectible coins
Collectible coins are another good way to mark special occasions and build camaraderie among members. They are a little more expensive than pins, so they are better for commemorating more significant events.
Like pins, coins can be issued as rewards for excellent service or to recognize years of service. They can also be used to celebrate significant milestones, such as the date a church was founded, a significant anniversary, or a milestone event in the lives of individual members.
Souvenir books
Souvenir books can be used to mark various activities and events, from a special trip or event in your church to a birthday or anniversary for an individual member or the church as a whole. There are many ways to use them. Members on a special trip can write about the experience and include pictures to create a keepsake for the rest of the church.
They can also be used to share information and knowledge with the rest of the church. Members with specialized knowledge can write a book on a subject to which they've devoted their lives. Birthday and anniversary celebrations are also good reasons to mark a souvenir book.
Putting the book together can be a great way to bring the whole group together while marking the occasion.
Scrapbook
A scrapbook can be a good compromise if you want to create a souvenir book but don't have the resources or expertise to write one yourself. Scrapbooks can be used for the same types of occasions as souvenir books.
They are also a good option for younger members who might not have the writing skills or knowledge needed for a souvenir book.
Souvenir works of art
A souvenir commemorating a special moment can also help a sense of identity and continuity. One example is the creation of a souvenir work of art, such as a painting, collage, or another type of art project.
They can be made by individuals or groups and can be used to commemorate anything from a special occasion to a memorable moment. Children can even make them as a way to commemorate an event or share their impressions of the moment.
Pro Tip for Online Fundraising During Church Anniversary
One occasion that many churches celebrate is special fundraising events, such as an annual fundraising gala. Your souvenirs can help mark this event and provide revenue for your church's special events.
You can come up with special coins or another type of souvenir.
For Online Fundraising, you can sign up on Donorbox and get started within a few minutes. Thousands of churches have already started fundraising, and church anniversaries can be a great way to kickstart your fundraising campaign.
Top Pick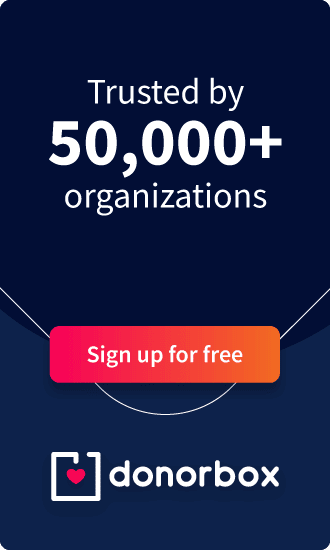 Donorbox
Start Church fundraising in 15 minutes

Easy to the setup donation page
Lowest fees of just 1.5% on donations
Thousands of churches use Donorbox
No technical experience is needed
Peer-to-peer fundraising available
Final Thoughts
Church anniversary souvenirs are a great way to mark special occasions and keep the memory of those events alive. There are many different types of souvenirs to choose from, each with its own benefits.
The important thing is to choose souvenirs that are appropriate for your church and represent the type of events that you want to commemorate.
Disclaimer: This post may contain affiliate links, and we might earn a small commission on qualifying purchases at no additional cost to you. This helps us run this website and share more such valuable posts.