10 Best Tree Planting Organizations & Charities in 2023 | Nonprofit Point
The world is facing an environmental crisis. Many factors contribute to this, but deforestation is one of the most concerning. Approximately 300 million trees are cut down annually, with a majority being felled for logging or oil production.
These statistics are alarming, and we must take action to prevent further deforestation. To make a difference in the fight against deforestation and support reforestation efforts, you should consider supporting tree planting organizations and charities. There are many ways you can help save our planet and support reforestation efforts by donating to charities that plant trees. These tree planting organizations work tirelessly to protect our forests and provide new ones for future generations.
Here are the 10 Best Tree Planting Organizations and Charities that you can support today:
1. Conservation International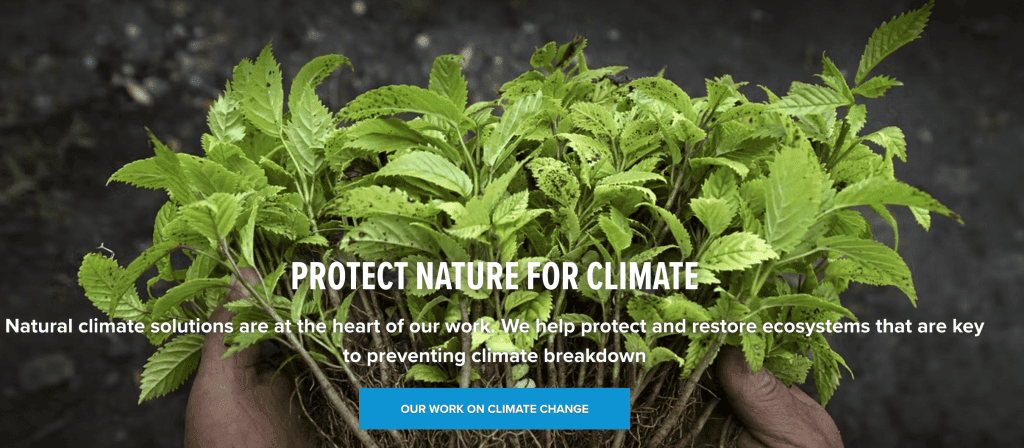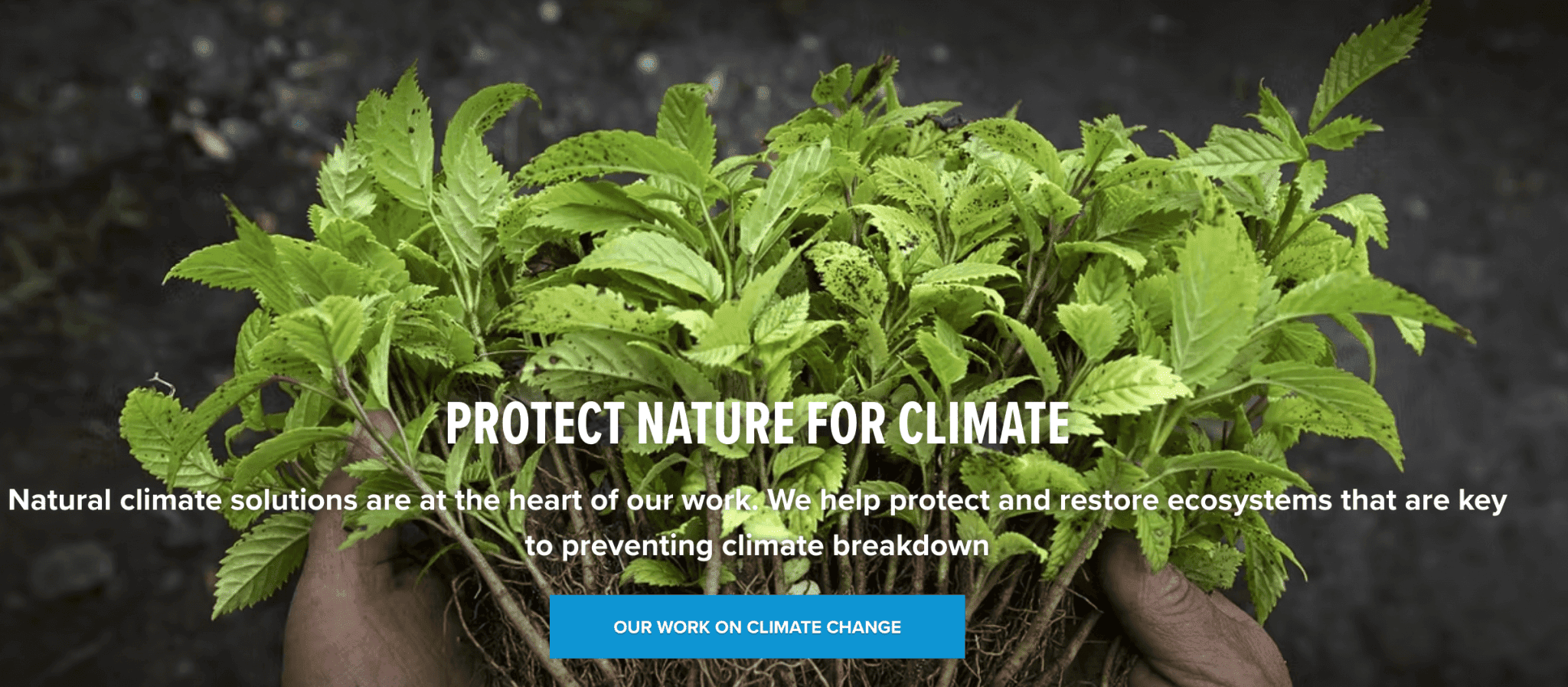 Focusing on "nature and people working together", Conservation International is an organization that aims to protect biodiversity, end deforestation, and empower people to solve the climate crisis. Their goal is to plant one tree for every person on the planet to create a "green shield" that can reduce carbon emissions and help fight climate change.
With this initiative, they will help to restore forests that have been destroyed and protect sensitive ecosystems. Their forests will provide homes and food to critically endangered species such as orangutans, tigers, and rhinos. In addition, they aim to help prevent pandemics such as Zika and Ebola by protecting biodiversity and increasing our capacity to look after areas with special significance.
Their mission and vision: Building upon a strong foundation of science, partnership, and field demonstration, Conservation International empowers societies to responsibly and sustainably care for nature, our global biodiversity, and the well-being of humanity.
Conservation International Review:
They are recognized as a financially accountable and transparent organization.
According to CharityWatch, they have rated an A grade.
According to Charity Navigator, they score 91.17 Out of 100
2. Trees for the Future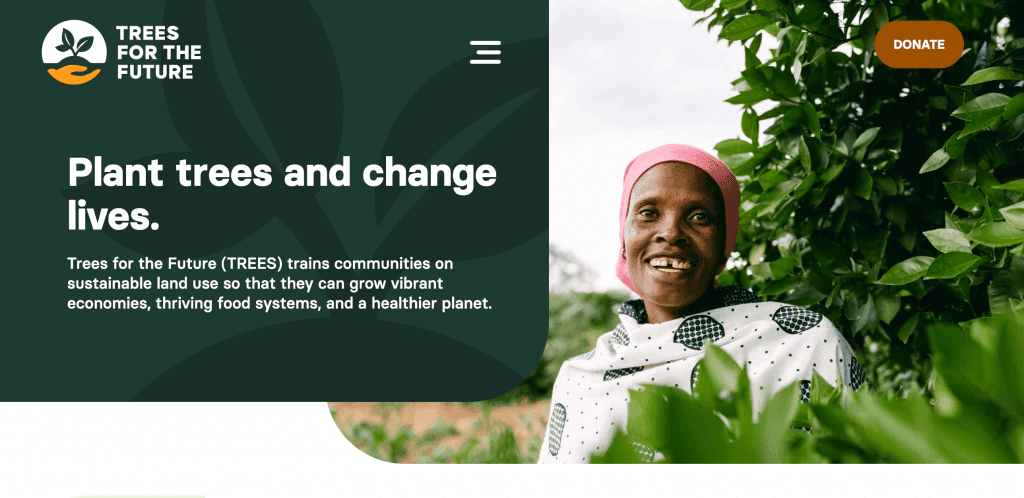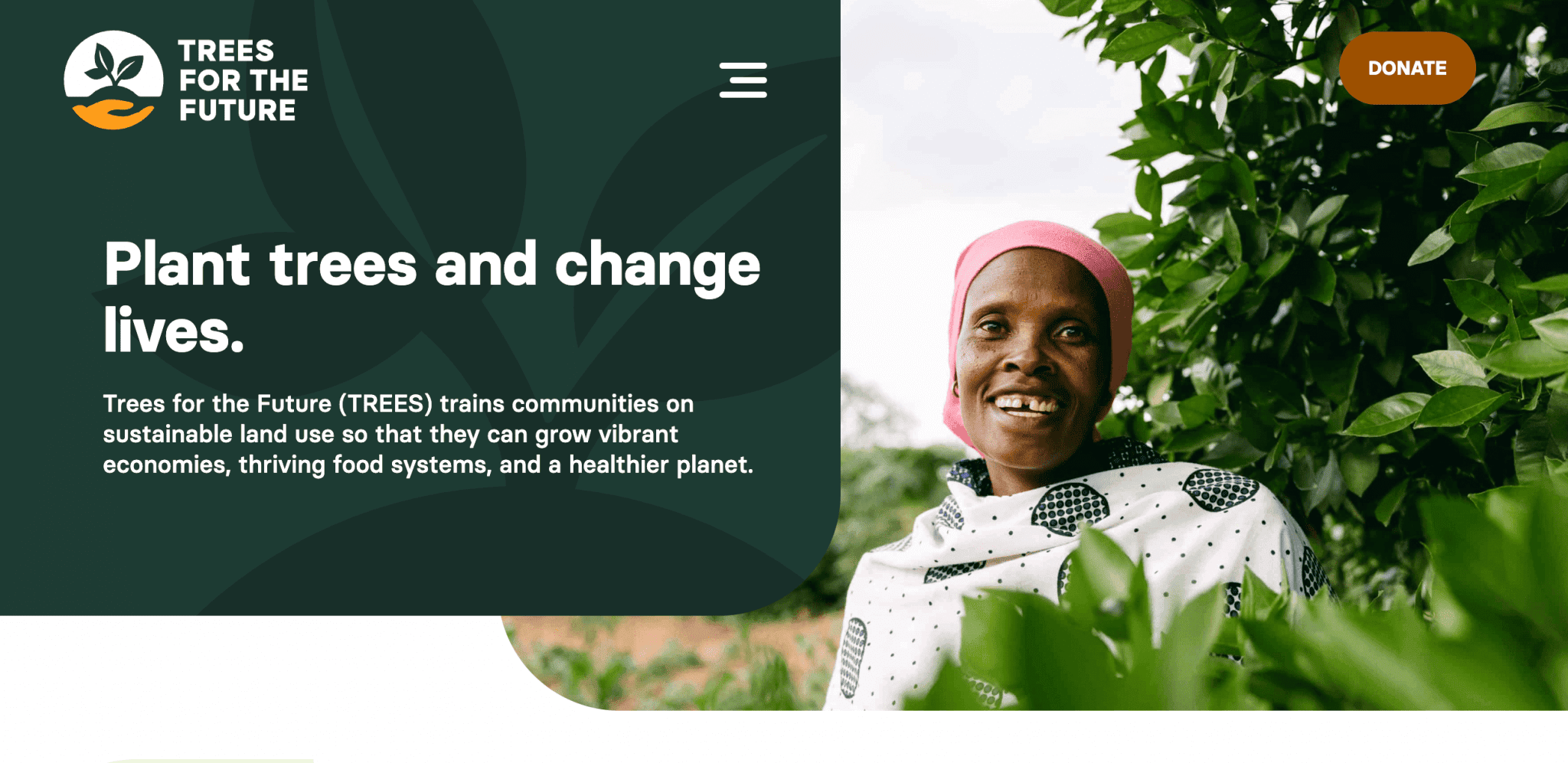 Trees for the Future is an organization that provides people in Africa with tree seedlings. Their goal is to ensure that Africa is rich in natural resources. With the help of donors, they have given away over 11 million tree seedlings in 20 African countries since 1997. They are dedicated to reforesting Africa, focusing mainly on distributing acacia trees. These trees help prevent desertification, provide habitats for wildlife, and prevent soil erosion.
Their achievements so far:
In 2015, TREES surpasses 100 million trees planted around the world.
By 2030, they are on track to plant one billion trees worldwide
Trees for the Future Review:
According to Charity Navigator, they rate 90.46 out of 100. As per financial score, they rate 86.51 out of 100.
For accountability and transparency, they rate 100 out of 100
Almost every volunteers, donors and supporters have shared a positive experience working with them (as per the reviews from GreatNonprofits)
3. Eden Reforestation Projects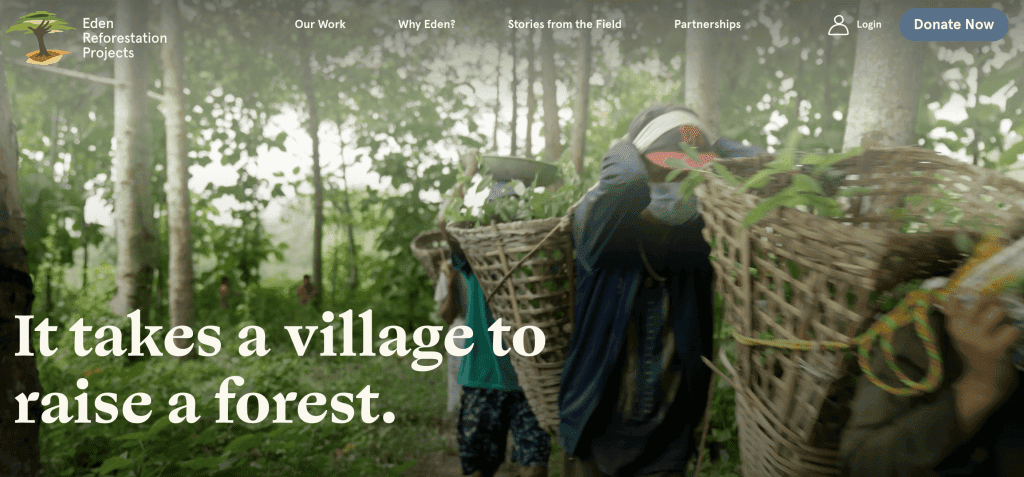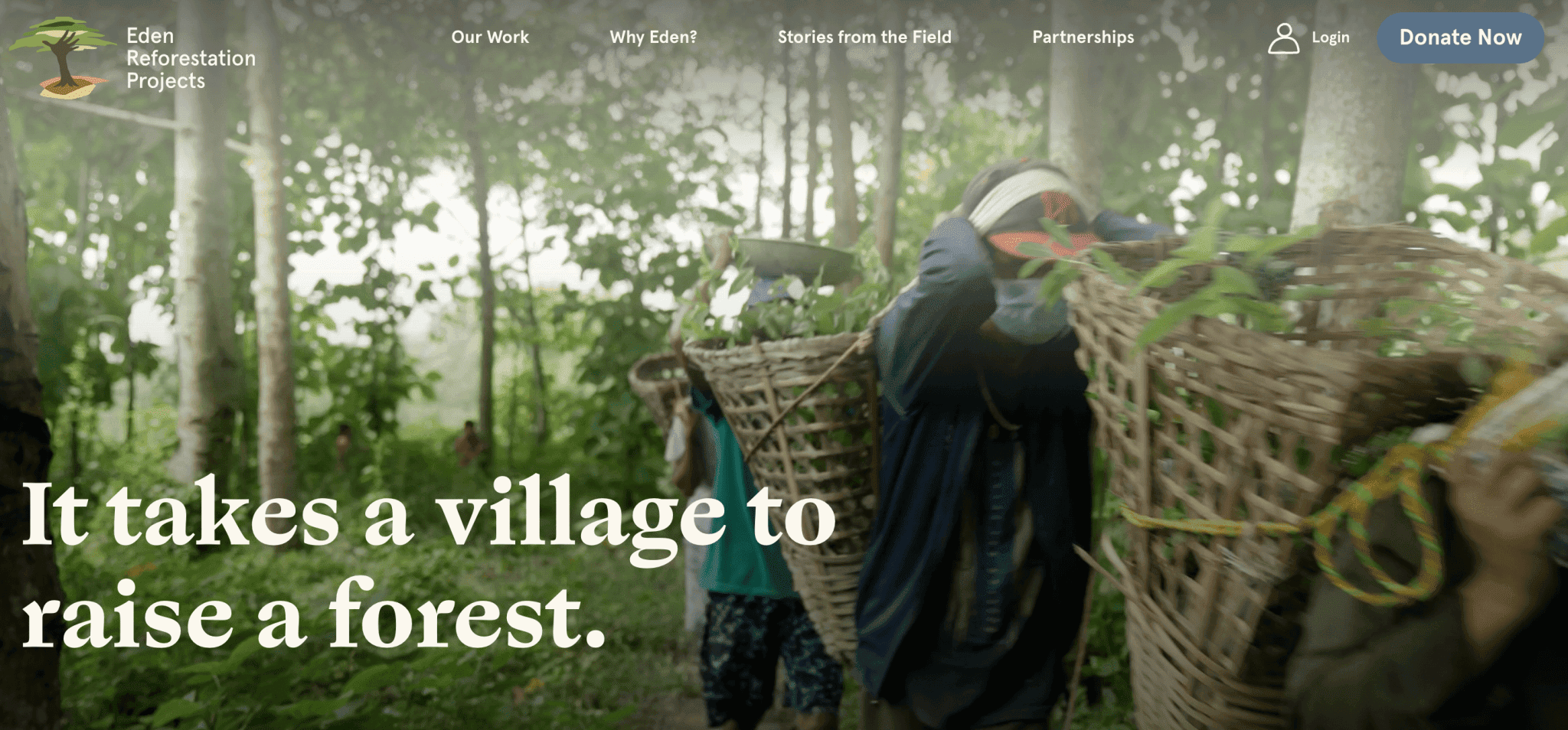 Eden Reforestation Projects focuses on planting trees in South America, Asia, Africa. They also primarily work in Amazon deforestation prevention, sustainable agriculture development, and carbon offsetting. They plant native trees in the Amazon region, where most of the deforestation occurs. Their goal is to prevent further deforestation within the Amazon eventually. They have planted over one million trees in the Amazon as of 2016.
Eden Reforestation Projects also has sustainable agriculture programs in Central and South America. They also work in Africa, and Asia. These programs help small farmers become more sustainable by providing them with tree seedlings. The trees provide shade for crops, preventing them from burning under the hot sun and producing food and medicine.
Eden Reforestation Projects Review:
According to Charity Navigator, Eden Reforestation Projects has a 3-star rating with an overall score of 87.01.
As per Accountability & Transparency, they score 96.00 out of 100.
4. International Tree Foundation (ITF)
The International Tree Foundation (ITF) is an environmental organization founded in Kenya in 1922. ITF is run by a small dedicated team of staff and trustees who work with partners to plant trees in Africa and the UK.
They are also considered the oldest tree planting charity in the world.
They currently have a particular focus on Africa and the UK. Some of their notable programs are:
Kenya Programme
Sustainable Community Forestry Programme
Africa Drylands Programme
UK Community Tree Planting
Trees in the cities
International Tree Foundation (ITF) Review:
Currently, there are no reviews available for ITF around the internet.
5. Trees for Cities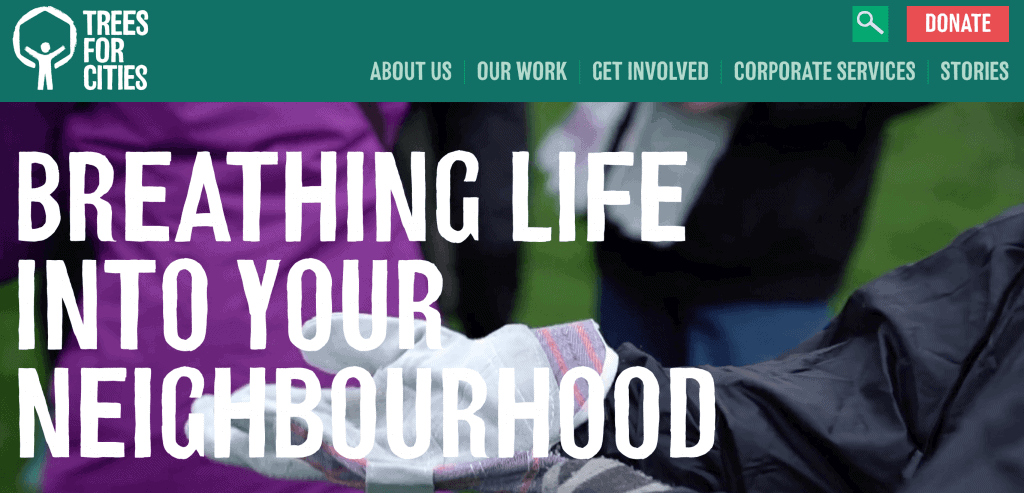 Trees for Cities is an organization that works to plant trees in cities. They have planted over 15 million trees across 30 countries. Their goal is to create a more sustainable and beautiful world through tree planting in cities. They have a variety of programs where you can help plant trees, from hosting a tree-planting event to donating money.
They are the only UK charity working nationally and internationally to improve lives by planting trees in cities.
Trees for Cities focuses on planting various tree species in cities. Trees have different benefits, such as generating clean air, reducing noise pollution, or providing food. With the help of trees, cities will be able to sustain themselves better and be more beautiful places to live.
Stats of their charity:
1,285,073 trees have been planted since 1993
140,000 volunteers
6. The Woodland Trust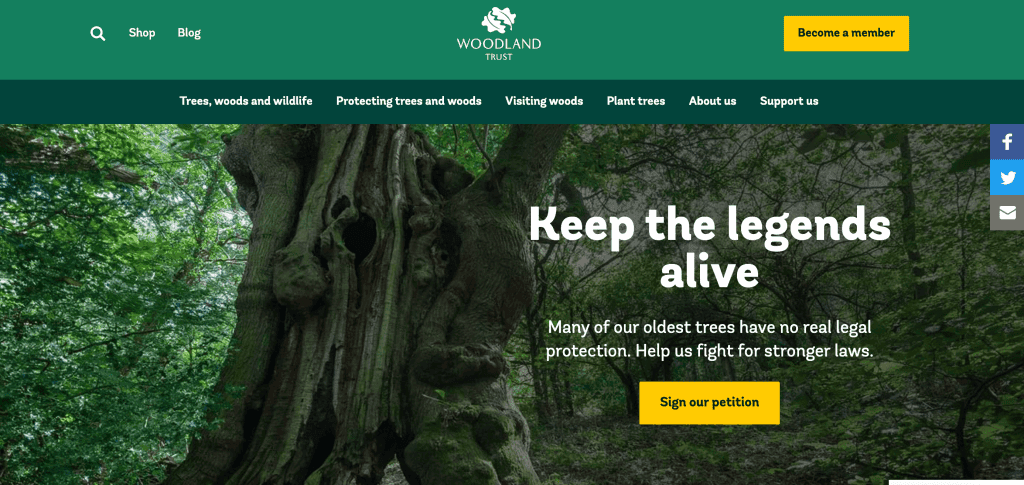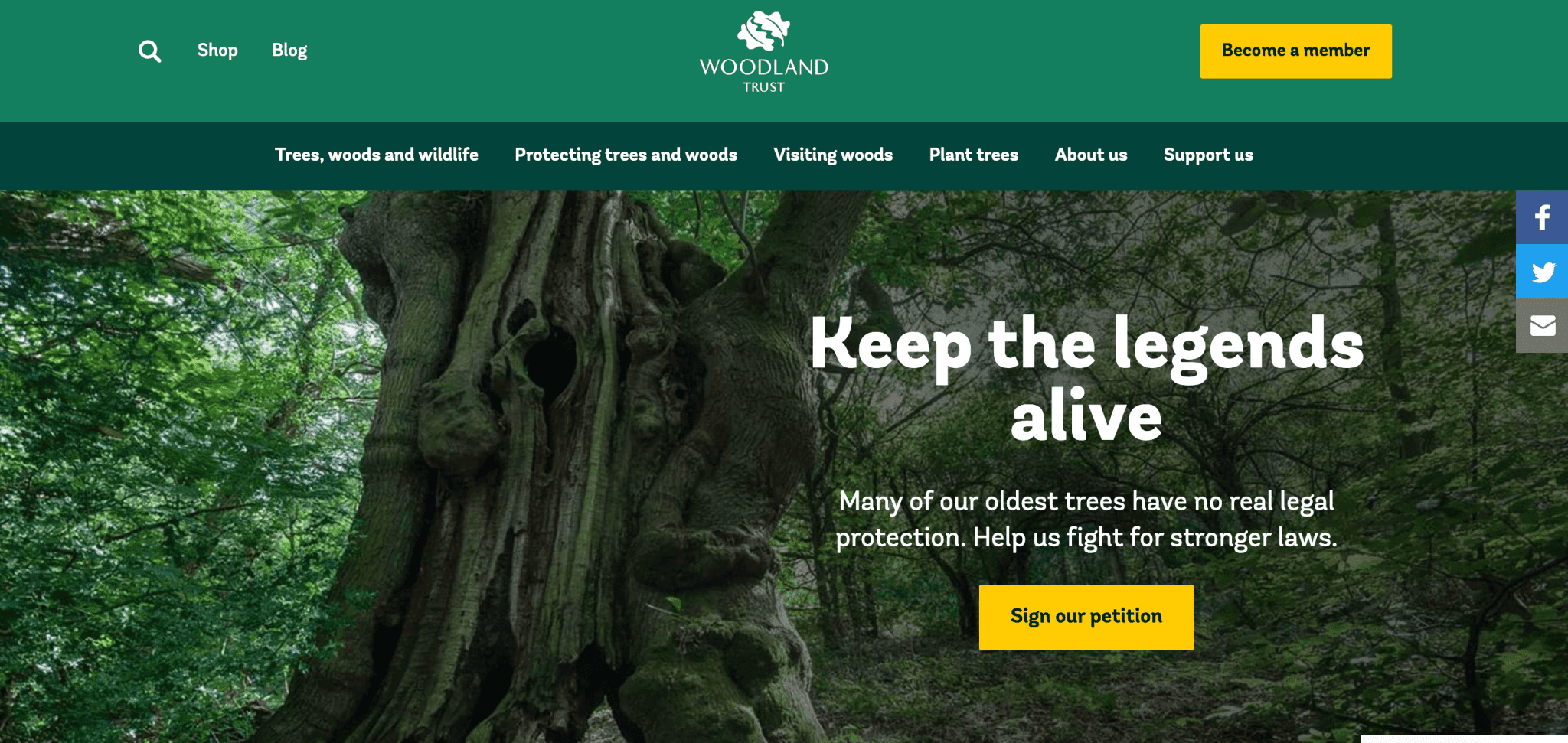 The Woodland Trust is an organization that works to protect and expand the world's ancient and native woodlands. They plant trees to protect wildlife, provide plant habitats, and promote sustainable development.
They have planted over 60 million trees in the UK since their founding in 1980. Volunteers can sign up to help plant trees in their area. The Woodland Trust has three primary tree planting campaigns each year, where volunteers can help plant trees in different areas across the UK.
They are UK's largest woodland conservation charity.
Stats:
They have around 500,000 members.
They have a budget of £48.2 million.
Planted 50 million trees since 1972 and planning 50 million more over the next five years.
Saved 1,172 woods from destruction since 1999
Restored 34,000 hectares of precious ancient woodland.
7. Plant with Purpose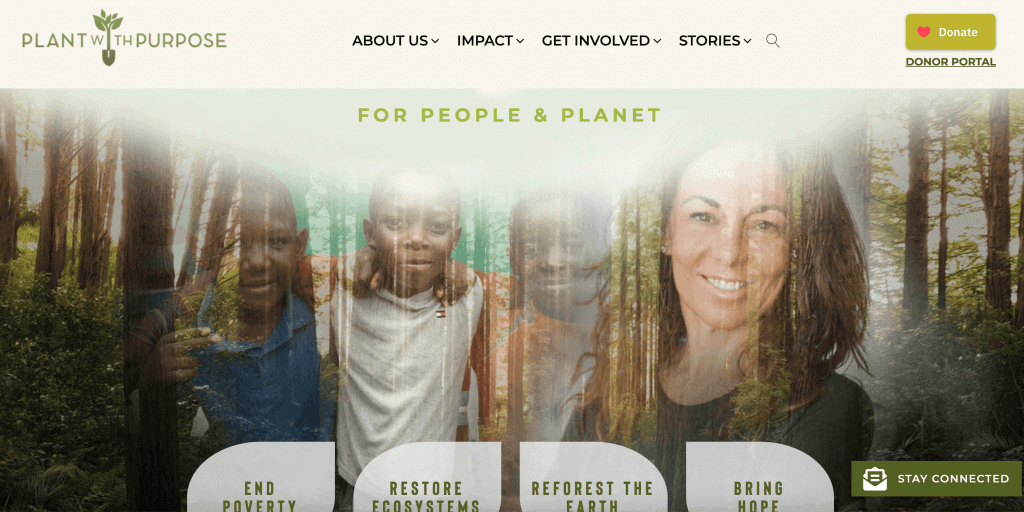 Plant with Purpose is an organization that works to plant trees in deserts worldwide. They have planted over 50 million trees across India, Madagascar, and Mexico since their founding in 1994. Plant with Purpose works with the local communities in these areas to ensure that the trees are planted in the best places.
They also work with people who have disabilities to ensure that everyone can help plant trees. You can help Plant with Purpose plant trees by signing up for their monthly tree planting service or making a donation.
Stats & Review of Plant with Purpose:-
48,676,718 Trees planted by them
4-star charity as per Charity Navigator
Overall charity score of 92.82
Certified as the best Christian workplace in 2020
ECFA Accredited
Top-rated Nonprofit in 2020
8. Tree Aid
Tree Aid is an organization that works to help communities in the drylands of Africa to become more sustainable through tree planting. They have been planting trees in Africa since 1987.
You can sign up to help Plant Aid plant trees by donating or joining their monthly tree planting service. They also have a unique section called "Buy Gifts", where one can choose a gift from their exciting range of bicycles to beehives. These valuable products will be invaluable to communities across West Africa and Ethiopia.
These are some of the gifts you can check out on their website: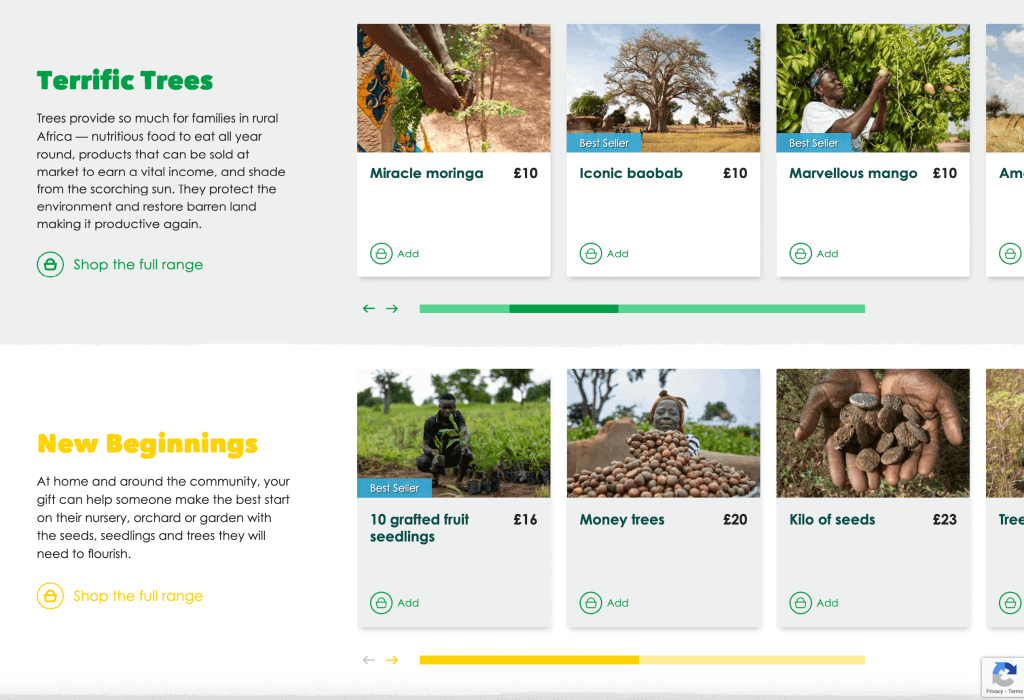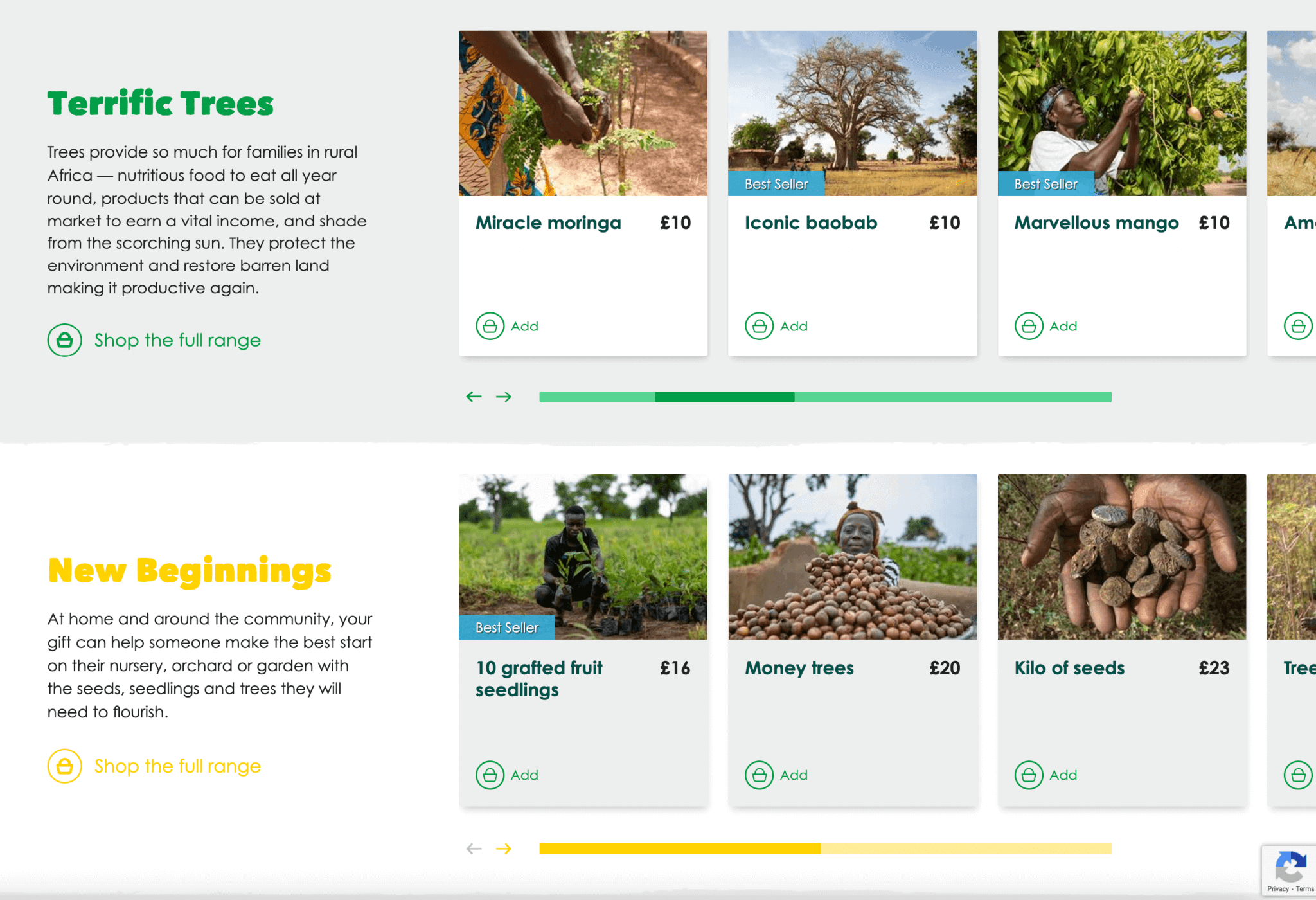 Some of their stats:
25 million trees planted
164,822 hectares of land restored
1.8 million people have received help
9. The National Forest Foundation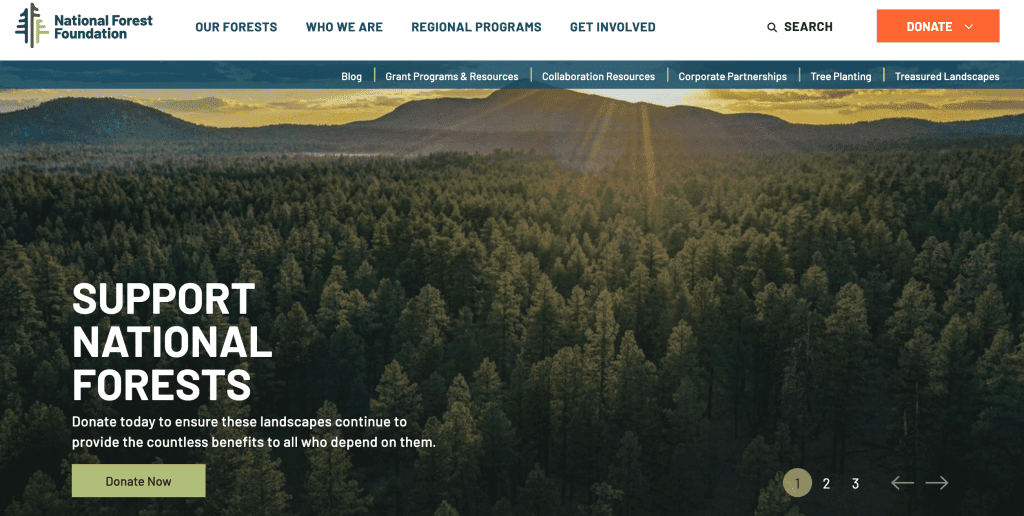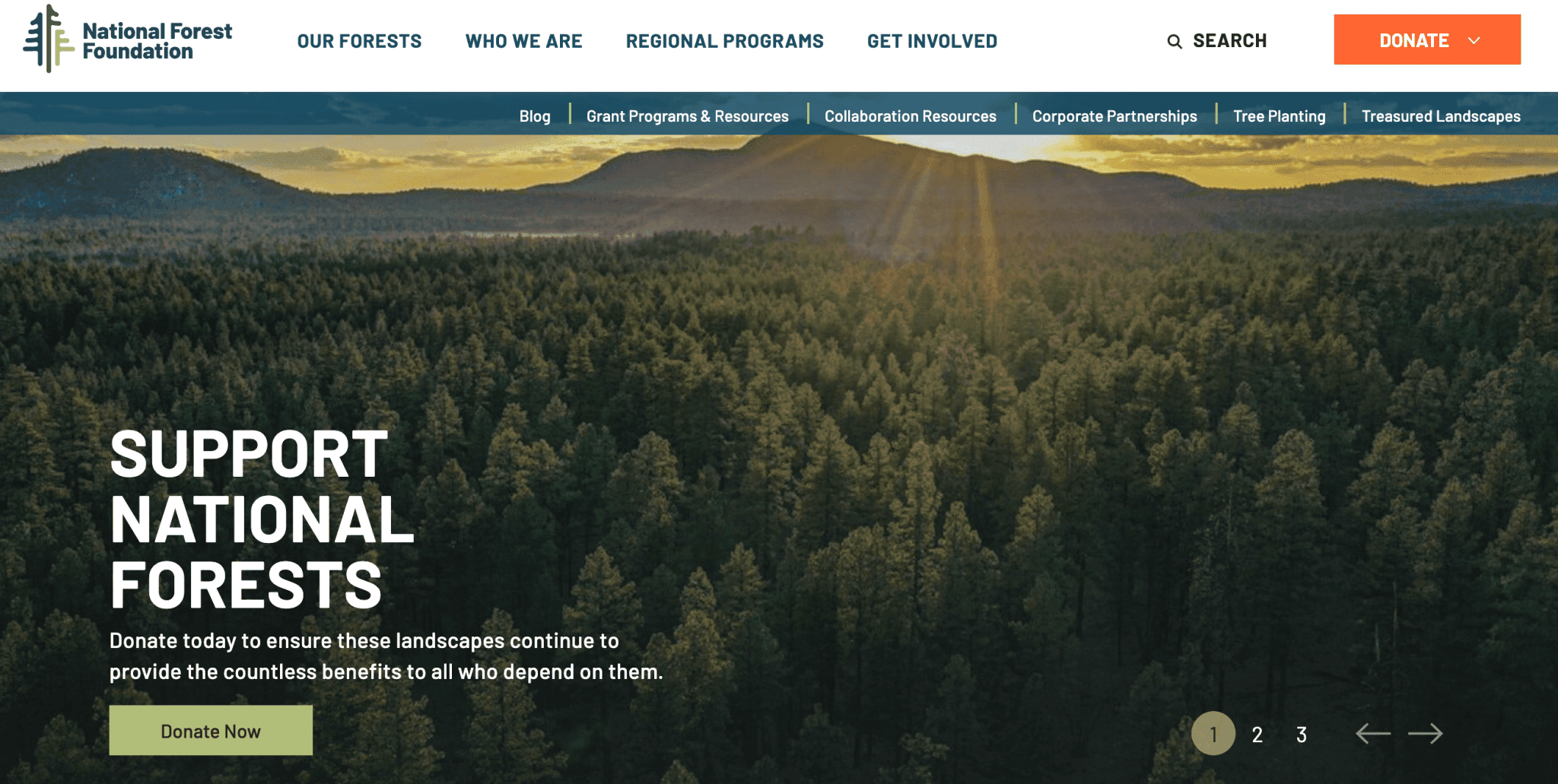 The National Forest Foundation (NFF) is excellent for supporting reforestation efforts. This non-profit organization was established in 1991 and works to protect and enhance America's forests.
NFF works with various federal and state agencies to carry out its goal and engages in various activities, such as providing grants, supporting research, and promoting public education. The charity has been working towards achieving its goal for over 25 years and has contributed significantly to the conservation of forests in the United States.
Some of the amazing stats:
7.3 million trees planted in 2021
21,000 acres reforested
$14.2M funds invested
National Forest Foundation Review:
4-star charity according to Charity Navigator
Overall score of 92.02 out of 100
10. The Green Belt Movement
The Green Belt Movement is a US-registered charity that works to protect and enhance Africa's natural ecosystems. Professor Wangari Maathai founded GBM in 1977 under the auspices of the National Council of Women of Kenya (NCWK).
The organization has been working towards this goal since 1979 and has contributed to a significant reduction in deforestation. GBM works towards its goal by planting trees, protecting wildlife, and empowering local communities to take ownership of the environment around them. The organization supports reforestation efforts by planting trees that can withstand drought, climate change, and soil erosion. GBM also works with farmers to help them reduce soil erosion. This charity has planted over 51 million trees in Kenya
The Green Belt Movement (GBM) has four primary areas of activity— Tree Planting and Water Harvesting, Climate Change, Mainstream Advocacy, Gender Livelihood, and Advocacy. Each area of work builds on and informs the others – Source (website)
How to select the Best Tree Planting Charities to Support?
When looking for charities to donate to, you should keep a few things in mind. First, you want to make sure that the organization is a non-profit. Second, you want to ensure that the organization is legitimate and transparent. You can review financial documents, such as 990 forms, and visit the charity's website to read about its mission and goals.
You can also use websites like GiveWell or Charity Navigator, which provide information about various charities. This information can help you identify charities worth your time and money.
How to support and contribute to tree planting charities?
You can support tree planting charities and contribute to reforestation efforts in many ways. You can donate, volunteer your time, or spread the word about these organizations. You can also support tree planting charities by growing your tree and participating in tree planting activities.
Growing your own tree is a great way to contribute to reforestation efforts because it can help reduce the need for people to purchase new plants. You can also participate in tree planting activities, like planting a seed or helping to transplant a sapling, that can help support reforestation efforts.
Final Thoughts
While deforestation is a serious global issue, planting more trees is one of the best ways to combat it. These 10 tree planting organizations and charities that help plant trees worldwide are dedicated to helping you plant more trees and promoting environmental protection.
Whether you want to plant trees in your backyard or make a difference globally, there are many ways you can help. Take advantage of these tree planting organizations' services to help save our planet and its inhabitants.