15 Best September Fundraising Ideas for Nonprofits (Creative)
The fall season is peak fundraising time for non-profits and charities. Moreover, September is a month when many fundraising events take place to benefit non-profit organizations. With so many potential donors available, it's the ideal time to launch an effective fundraising campaign.
But with so many competing priorities, you might wonder how to fundraise for your nonprofit in September.
Here are some great ways to raise money for your cause in September and all year round:
15+ September fundraising Ideas your nonprofit can try:
Host a Celebrity Gala
A celebrity gala is a fundraising event where you invite donors to meet and mingle with celebrities. Many celebrities, especially sports stars, enjoy giving back to their communities.
Hosting a gala where celebrities, prominent business people, and philanthropists can network and benefit your cause is a great way to raise funds for your nonprofit. When planning your gala, remember that celebrities are busy people, so you'll want to plan ahead.
Secure the date and venue before reaching out to potential guests. You should also have a solid fundraising goal in mind before you start contacting guests. If possible, try to raise funds for a specific cause. For example, if you're hosting a gala for an animal rescue, try raising funds for their spay and neuter program.
Have a Bowl-A-Thon
There are few American things than college football, and bowl games are the season's pinnacle. This is a great time to host a bowl-a-thon fundraiser for a nonprofit. To get started, find out which bowl games are happening in your area, and pick the one that benefits your nonprofit the most.
You can then create a fundraiser around that bowl game. How you do this will depend on your specific nonprofit. If you run an animal rescue, maybe you collect donations based on how many pigskin pigs are thrown during the game. Or, if you run a college tutoring program, maybe you host a trivia contest where people donate based on how many points the team scores during the game.
Create A Donorbox Campaign
With so many people looking to donate these days, crowdfunding platforms like Donorbox have become a popular way to fundraise for projects and causes. If you have a project that requires funding, now is the perfect time to host a fundraising campaign on Donorbox.
If you're hosting a campaign for a specific project, try to tie it into a timely event like Breast Cancer Awareness Month. You can then promote your campaign through social media posts and email marketing.
If you're hosting a campaign for an ongoing cause, try to find a unique way to promote your campaign. For example, if you're hosting a campaign to support the water crisis in Central America, you can ask people to donate in exchange for their name being featured on a water tower.
Embed an online donation form or button on your website to 10x online fundraising. You can easily set this up with platforms like Donorbox.
Top Pick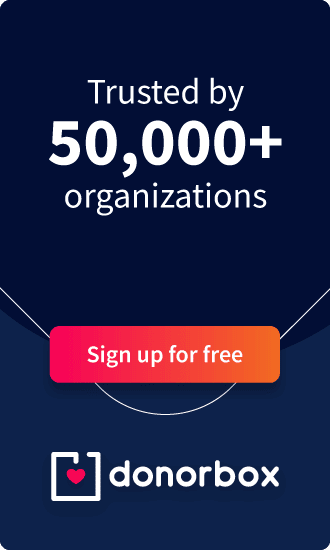 Donorbox
Start fundraising in 15 minutes (absolutely free)

Easy to the setup donation page
Lowest fees of just 1.5% on donations
Can start fundraising in just 15 minutes
No technical experience is needed
Hassle-free donation experience
Host an eco-friendly event
You can host many eco-friendly events to raise funds for your nonprofit. You can host a spring cleaning event, where people bring their old cleaning supplies for donation.
You can hold a service day, where people come together to clean up a local park or beach. You can host a gardening event, where people bring flower or vegetable seeds to share with others. These events are great ways to bring people together while raising funds for your organization.
Plus, they're a great way to get people to think about your cause and re-engage it. If you host any type of fundraising event, make sure to promote it on your social media channels. This is a great way to get people interested in your cause and donate to it.
Offer Existing Donors Unique Experiences
One of the best ways to fundraise for your nonprofit is to offer exclusive experiences to your existing donors. Experiences can be anything from a private concert to an exclusive look behind the scenes at your organization.
When hosting a fundraising event like this, make sure to give donors a concrete goal to meet. For example, if you're hosting a concert, try to get the band to play two or three songs. If you're hosting a behind-the-scenes event, try to get donors access to the dressing room or a walk-through of the production.
These types of events are great ways to engage your donors and drive up the amount they donate. It's also a great way to get your donors re-engaged with your cause and talking about it with their friends and family. And, since these events aren't cheap to host, they're a great way to raise extra funds for your nonprofit.
Create a Video Ad and Ad Network Fundraiser
If you have a large online following, you can try creating a video ad and ad network fundraiser for your nonprofit. These fundraisers are great ways to engage and interact with your online community.
Furthermore, they're a great way to promote your cause and drive more traffic to your donation page. The best way to host this fundraiser is to create a video ad and post it on ad networks like Facebook and Google Ads.
The video ad should be short, engaging, and include a call to action for people to donate to your cause. When hosting this fundraiser, try to create several ad versions to test which one performs best.
You can then change your ad based on the results. These types of fundraisers are generally short-term and last only a few days. However, they can be a great way to raise extra funds for your cause.
Hold a Dine-Out for Charity
Dine-out events are perfect for September fundraising because they are easy to organize and are a fun way to get high-net-worth individuals and businesses to support your organization.
Dine-out events are a great way to capitalize on September's tendency to be a giving month. Because it is not as busy as the summer months, it is a good time to launch a dine-out event and follow it up with other fundraising activities throughout the fall months.
It is best to have a dine-out event during the evening hours, as this is when people are more relaxed and more likely to be receptive to your message and invitations.
Have a Co-ed Dodgeball Tournament
Dodgeball tournaments are always a fun way to raise money for your nonprofit. Hosting a co-ed dodgeball tournament is a great way to engage donors and members of your local community.
You can advertise the tournament at local colleges, high schools, and your local gym. This will attract college-aged players who can also participate in the tournament. If you want to make the tournament even more appealing, you could partner with a sports bar or restaurant, allowing participants to enjoy food and beverages while playing.
Run a Weekly or Monthly Pledge Program
Pledge programs are a great way to build a recurring revenue stream for your organization. Once your members sign up to make weekly or monthly recurring donations, they are likely to continue making those donations for a long period of time.
A pledge program is an excellent September fundraising idea for nonprofits that rely on fundraising events for a significant portion of their annual revenue. This fundraising method allows you to leverage one-time events such as galas, golf tournaments, and steak nights into a regular income stream.
Host a Celebratory Dinner to Thank Your Volunteers
Celebratory dinners are a great way to say "thank you" to your volunteers, who play a vital role in your organization and are often underappreciated for their efforts. When you host a celebratory dinner for your volunteers, you will send the message that their contributions matter and that you appreciate the time they dedicate to helping your organization succeed.
Cold Calling Can Net You Fresh Prospects and Warm Prospects
Cold calling is a common fundraising method, but it is often seen as time-consuming, complicated, and difficult to raise funds. However, if done correctly, you can actually raise more money with cold calling than with any other fundraising method.
Since many people are out of town during the summer, they are less likely to respond to your other fundraising methods, such as direct mail or in-person fundraisers. While you may not make a lot of money from each call, you can make a large number of calls in a short period of time.
This will help you reach your fundraising goals, even if your prospects are less available during the summer.
Leverage Your Email Database with Mailing Campaigns
Mailing fundraising campaigns can be an excellent way to raise funds for your nonprofit. However, during the summer months, you may find that your donors are less inclined to respond to mailed solicitations due to their busy schedules.
Since people are less likely to respond to mailed solicitations in the fall, mailing campaigns are a good September fundraising idea.
Set a Monthly Goal, and Don't Stop Fundraising Until You Meet It
Setting a monthly fundraising goal that you'll need to meet before the end of the month is a great way to motivate yourself to keep fundraising.
In addition to setting a monthly goal, you should also list fundraising activities you can complete in one month, including contacting past donors to solicit additional contributions and inviting your members to attend fundraising events.
Once you set a fundraising goal, you should not stop fundraising until you meet it.
Host a Food Drive Before Grocery Stores Lock Up for the Winter
Food drives are a great way to raise money for your organization. You may consider coordinating with a local grocery store when hosting a food drive.
Once the grocery store has collected enough food from the winter, they will often send one of their trucks to your office or nonprofit organization to pick up the donations. This will allow your donors to drop off their donations at a convenient location, which will likely increase the number of donations you receive.
Organize an Events Calendar in September
A fundraising events calendar is a great way for your donors to stay up to date on your organization's fundraising activities throughout the year. Hosting an events calendar is a great way to engage donors and keep them updated on the latest fundraising activities your organization hosts.
Conclusion
Thank you for reading this post! We hope it has provided you with some useful ideas for September fundraising. If you liked this post, please feel free to share this within your organization and to your fellow nonprofit friends.
Disclaimer: This post may contain affiliate links and we might earn a small commission on qualifying purchases at no additional cost to you. This helps us run this website and share more such valuable posts.