9 Worst Veteran Charities to Donate to in 2023 | Avoid them
As a society, we must support and honor the men and women who have served our country in the military. One way to do this is by donating to charitable organizations assisting veterans. However, not all veterans charities are created equal. Unfortunately, some nonprofit organizations do not use donations most effectively or ethically.
In this blog post, we will highlight some of the worst veteran charities to donate to inform you and help you make more informed decisions about where to direct your generosity.
It is important to note that the purpose of this post is not to criticize or disparage veterans or the work that many organizations do to support them but rather to raise awareness about where donations may not have the intended impact. Our goal is to empower you, the donor, with the information you need to ensure that your contributions make a real difference in the lives of veterans.
These are the 9 Worst Veteran Charities to Donate to in 2023:
Note: This list is made with social media research examples of people sharing their opinions, news articles & opinions and alerts from Charity Navigator (Top website for Nonprofit Intelligence. 

Some charities might not be a scam for one person, but they can look like scam for another. It depends on the person's point of view. We are trying to share information and present factual truths.

If you think any charities should not be a part of this list, feel free to contact us at nonprofitpoint@gmail.com & we will take it down after a review. Our goal is not to hurt anyone's sentiment but to just share information on what's happening so that the donors won't be affected.
This particular charity tops the list and will top the list of worst veteran charity for a long time. There are many reasons why WWP is considered the worst veteran charity.
Let's look at why you should not donate to Wounded Warrior Project (WWP).
They spend on lavish retreats heavily. Overall, any veteran charity should reinvest the money into the cause, but for WWP its totally different.
NYTimes has reported the following:-

In 2014, after 10 years of rapid growth, the Wounded Warrior Project flew its roughly 500 employees to Colorado Springs for an "all hands" meeting at the five-star Broadmoor hotel. Source

It has spent millions a year on travel, dinners, hotels and conferences that often seemed more lavish than appropriate, more than four dozen current and former employees said in interviews – reported the New York Times.
Their CEO and COO were also fired for inappropriate spending.
We also heard that WWP was suing other charities for using an image of a soldier carrying another injured soldier and claiming it was a copyright infringement of the WWP logo.
Some social media angry comments:
One of the Reddit user, shared this story regarding WWP CEO.

Another Reddit user, shared an insight on their spending.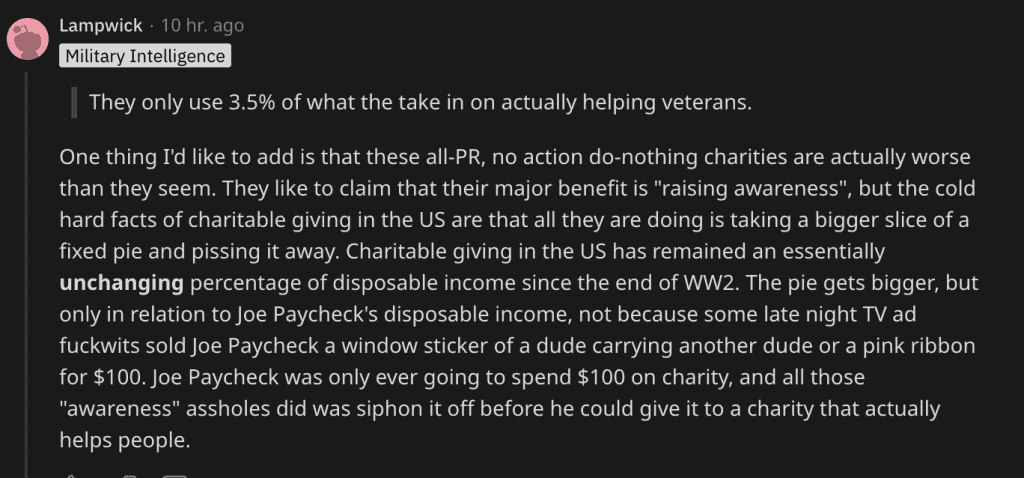 Overall, we would highly recommend avoiding this charity at any cost, given their spending habits and extreme PR trying to re-align the bad image.
This particular charity has a low concern on Charity Navigator ratings.
Multiple reports and news suggest that their campus has drug abuse.
One of the article stated: Staff and residents say Veterans Village has deteriorated over the past few years as leadership has prioritized filling beds over providing high quality care, admitted too many clients during a severe staffing shortage and failed to establish enough oversight to keep the campus drug-free.
It has also started enrolling non-veterans which many of the people consider a shift in focus too. Staff members say that they don't even feel safe in the Vietnam Veterans Village campus.
In yet another report, when the investigation was going on, they fired their employee after speaking out, which is a clear violation of fundamental rules and the whistleblower policy that protects employees.
Since the Charity Navigator rating has a very low concern and has advised donors to take a careful decision while donating, we are enrolling this particular charity into our worst veteran charities list for now.
AMVETs is a 501c3 veterans charity operating nationally.
Their mission is to provide support to veterans through service programs as well as providing community and youth-oriented programs designed to promote unity and patriotism.
However, it has got an F rating from Charity Watch.
Their overhead (i.e expenses) are 72% of the total income. Whereas they only spend roughly 28% on veterans programs and services.
According to Charity Watch, the cost to raise each $100 in Cash Support is $62, which is way too low for an established charity like this.
The Better Business Bureau said AMVETS NSF does not meet five of the BBB's standards for charity accountability. Quoted here.
It has also been found that AMVETS NSF also sells donors' personal information, which is a clear violation if they are not being transparent about it and letting the donors know beforehand.
We also noticed that they are quite irregular or sometimes don't publish annual reports, which is quite a move since almost every charity does publish an annual report covering all the numbers, expenses, donations, etc.
Overall, looking at the history and some irregular practices, we recommend avoiding donating to AMVETs.
4. AdoptAPlatoon Soldier Support Effort (AdoptaPlatoon)
AdoptaPlatoon is an "F" rated veteran charity as stated by CharityWatch.
It has a mission of providing deployed military service members with quality of life and morale-lifting packages.
They once received almost $8.3 million in grants and haven't reported that, which raises accountability issues.
Charity Watch also found that this charity has seen varied expenses and appeared to be reporting fundraising expenses as program grants.
You can read the full article by CharityWatch here, where they have detailed everything and recommended adopting better accountability practices.
Some other notes by Charity Watch:-
Approximately 95% of Adoptaplatoon's revenue is derived from the fundraising efforts of a professional fundraising company.
Adoptaplatoon is in dispute with its direct mail service provider concerning mailing costs.
Adoptaplatoon reported Paycheck Protection (PPP) Loan proceeds of $88,125.
We would certainly recommend avoiding this charity from donating.
DVNF is a veterans charity that provides critically needed support to disabled and at-risk veterans who leave the military wounded—physically.
But they have been rated "F" by Charity Watch for these statistics.
Their overhead expenses are over 96%, and they just spend over 4% on program services that actually help veterans.
96% overheads for a veteran charity is a bit too much. The cost to raise $100 is almost $90, which is a bad metric to comprehend.
Most donations ($25.5 million) to DVNF have to be paid out to vendors like Innovairre for "Direct Mail production.
Charity Watch also reported, "According to DVNF's 2008 audit, only $127,421 or less than 1% of DVNF's $16.3 million budget could have been spent on grants or aid to individuals. Except for this amount and a $40,000 unrestricted grant to a related party, all the rest of DVNF's reported program expenses of $4.5 million were direct mail related."
We list this charity as the worst veteran charity to donate to and recommend avoiding donating here.
Veterans Relief Network is a 501c3 veterans charity to assist U.S. military veterans and their families.
They also have an F rating by Charity Watch.
Almost 87% is overhead expenses, and just 13% is spent on program expenses for military veterans.
The cost to raise each $100 in cash support is nearly $82.
CharityWatch also identified that professional fundraisers conducted two telemarketing campaigns on behalf of the Veterans Relief Network (VRN) for which VRN received only 10% of the gross contributions raised.
The BBB (Better Business Bureau) has also urged caution to donors when they found out their fundraising consultant, Precision Performance Marketing (PPM) of Kirkwood, has used sweepstakes mailings to help several national charities raise millions of dollars on behalf of causes ranging from childhood cancer to autism.
Records show that most of those contributions have gone to pay the costs of fundraising rather than to assist people in need.
You can read the entire report by BBB here, alerting the donors regarding the same.
Their website says, that they generate public awareness, funds legal representation, and provides reintegration support for the nation's warriors to preserve the rights, defend our defenders, and enhance the communities
Unfortunately, they have got an "F" rating too by Charity Watch.
63% is spent on overhead expenses, and just 37% is spent on program services.
Charity Navigator has also given them a 2-star rating and rated them 70%.
Their mission as stated on their website is: To enhance the quality of life of Purple Heart recipients and other honorably discharged veterans and their families.
Charity Watch has given them an "F" rating, whereas Charity Navigator has given them a zero-star rating with 40%.
They spend over 93% on overhead expenses and the rest 7% goes into the program expenses.
When the consolidated audit came out in 2020, we found the following statement, "For each of the preceding 5 years, the Organization has generated net losses ranging from $950,000 to 7.6 million dollars. The current year's loss of approximately 414,000 dollars further reduced net assets to a deficit of approximately $1.1 million on June 30, 2020."
We recommend avoiding this charity for now.
Paralyzed Veterans of America (PVA) is a 501c3 tax-exempt nonprofit, that is a steadfast advocate for paralyzed and disabled Veterans and all people living with disabilities.
According to Give.org report and analysis, Paralyzed Veterans of America (PVA) do not meet the following Standards for Charity Accountability which are:
Standard 1 (Oversight of Operations and Staff)
Standard 6 (Board Policy on Effectiveness)
Standard 7 (Board Approval of Written Report on Effectiveness)
Standard 16 (Annual Report) (They did not include the total program expenses broken down by major program category)
PVA spent $95 million on average, with $56 million paying for a direct-mail campaign to get money and support for its public education program, according to tax filings, quoted by Public Integrity.
According to Charity Watch analysis, almost 69% are into overhead expenses and the rest 31% are into program services.
Some other worst veteran charities you should avoid donating are:-
Healing Heroes Network
Vietnam Veterans of America
Operation Finally Home
Mutts With A Mission
HonorBound Foundation
Help Heal Veterans (formerly Help Hospitalized Veterans)
For The Troops
Here are some tips for you when you look to donate to a veteran charity. These tips will help you make an even more informed decision.
Research the charity: Look up the charity on websites such as Charity Navigator or GuideStar, which provide information on a charity's financial health and accountability.
Check the charity's website: Look for information on how it uses donations, its programs, and how they help veterans.
Don't give to telemarketers: Many fraudulent veterans charities use telemarketing to solicit donations, so be wary of unsolicited phone calls.
Be wary of high-pressure tactics: Legitimate charities will not pressure you to donate on the spot.
Be cautious of charities with similar names: Some fraudulent charities will use names similar to well-known and reputable organizations.
Donate directly to the charity: Avoid giving donations through third-party fundraisers, which may keep a large portion of the donation for themselves.
Consider supporting veterans through other means: such as volunteering or providing services to veterans directly.
Always check that the charity is registered and approved by the state attorney general office or the charity commission.
Look for transparency: Legitimate charities will typically provide detailed information about their programs, finances, and impact on their website.
Check for accreditation: Charities accredited by organizations such as the BBB Wise Giving Alliance or the Charity Navigator have met high standards for financial health, accountability, and transparency.
Avoid charities that make unrealistic claims: Be wary of charities that make grandiose promises about the impact they will have, or that claim to provide services that seem too good to be true.
Final Thoughts
In conclusion, it is important to be diligent when choosing which veterans' charity to donate. By researching the charity, checking the charity's website, being cautious of high-pressure tactics, looking for transparency, and avoiding charities that make unrealistic claims, you can help ensure that your donation goes to a legitimate and effective organization that truly supports veterans.
Remember, there are many reputable and effective veterans charities, so take the time to find one that aligns with your values and supports the causes you care about. By donating to a charity that truly makes a difference in the lives of veterans, you can make a real and meaningful impact on the lives of those who have served our country.